Iowa Field Hockey is one of the most decorated programs in the Big Ten and the Nation. The program boasts impressive numbers.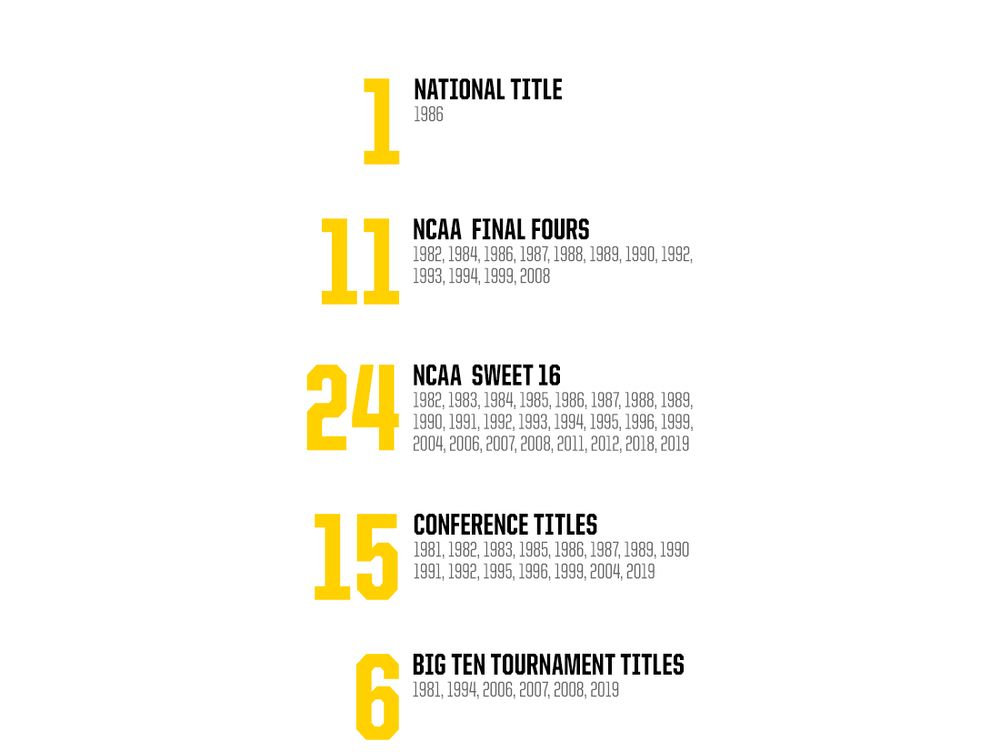 ALL-AMERICA TRADITION
In the program's 42-year history, there have been 94 NFHCA National All-America selections — including 49 first-team honors. 2019 senior Katie Birch and junior Maddy Murphy are the most recent Hawkeyes to earn All-America honors. Birch is also one of seven Hawkeyes to be named to an All-America team three times throughout her career. Heather Bryant, Lisa Cellucci, Erica Richards, Amy Fowler, and Natalie Cafone also accomplished the feat, while Kristy Gleason is the only Hawkeye to earn All-America honors all four years of her career.
NFHCA ALL-WEST REGION TEAM
Iowa Hawkeyes have been named to the NFHCA All-West Region Team 171 times, including four-time honorees Katie Birch, Heather Bryant, Tiffany Bybel, Kristy Gleason, and Lauren Stiver.
OLYMPIANS
Ten Hawkeyes have represented Iowa 14 times as members of the United States Olympic Team. Six Hawkeye student-athletes played in the Olympic Games, including Kris Fillat, Mary Koboldt, Donna Lee, Marcia Pankratz, Liz Tchou, and Andrea Weinberg. Pankratz was selected to play twice, making her a two-time Olympian.
Kristen Holmes and Barb Weinberg were selected as alternates and head coach Beth Beglin and assistant coach Patty Shea also played in the Olympic Games.
ALL-CONFERENCE HONOREES
The Big Ten Conference has named 167 Iowa Hawkeyes to All-Big Ten teams, including 94 first-team, 70 second-team, and three honorable mentions.