Hawkeyes Ready for Final Season in Field House Pool
Aug. 25, 2009
Iowa and the Big Ten Network
Big Ten Network: Free Hawkeye Video
The 2009-10 season will be one of excitement, mixed with sentimental reflection for the University of Iowa swimming and diving team. It will be the Hawkeyes' final competitive season in their home Field House pool as the team will be moving into the brand new Campus Recreation and Wellness Center for the 2010-11 season. The new facility will include a 50-meter competition pool, a separate diving well, a leisure pool with lap lanes and 24,000 square feet of fitness space.
"While we are extremely excited to move into our new facility, the Field House pool has so much wonderful history that needs to be remembered," said Head Swimming Coach Marc Long. "From the Dolphin Shows to the military training exercises to the numerous outstanding swimming and diving performances. It is definitely a place on campus with a rich history."
The Field House pool was the world's largest indoor pool when it was dedicated in January 1927. Head Coach Dave Armbruster, who founded the team in 1917 and coached until 1957, designed the facility. Iowa hosted the NCAA Championships that year. The facility was also the birthplace of the butterfly stroke. Armbruster and Hawkeye swimmer Jack Sieg collaborated in its development in the 1930s.
Former Hawkeyes will have one last chance to take a dip in the pool at the Iowa Alumni Meet, set for April 17, 2010. It will be the final official event to be held in the facility.
The Hawkeyes want their last season in the Field House pool to be a strong one, and both the men and women's teams have the potential to make that happen.
"We had a strong year last season, and we want to continue that positive momentum through 2009-10," explained Long. "Some of our student-athletes competed at national and international meets during the summer. That extra training should be reflected in even faster times this season."
The Hawkeye women return the team leader in 12 of 14 individual events, the entire 200 and 400 medley relay squads and three of four legs of the three freestyle relay teams from 2008-09. They also have a solid class of newcomers to add depth and talent in every event. Last season, Iowa set school records in four individual events and three relays and posted NCAA "B" cuts in three individual events and three relays.
The Iowa men's squad returns the team leader in 14 of 17 individual events and at least three legs in four of the five relays. In 2008-09, the Hawkeye men set school records in two individual events and posted NCAA "B" cuts in five individual events and three relays. The Hawkeyes also posted their best dual record since 1995 (7-1), going undefeated in the Field House pool (4-0). The team will also have a strong group of newcomers that will immediately help out in several events and relays.
Iowa will open the 2009-10 season Oct. 3 with its annual Black and Gold Intrasquad meet, which will also be this season's "Pink Meet" to focus on breast cancer awareness. The Hawkeyes will swim at Truman State Oct. 9 before opening Big Ten competition at Wisconsin Oct. 16.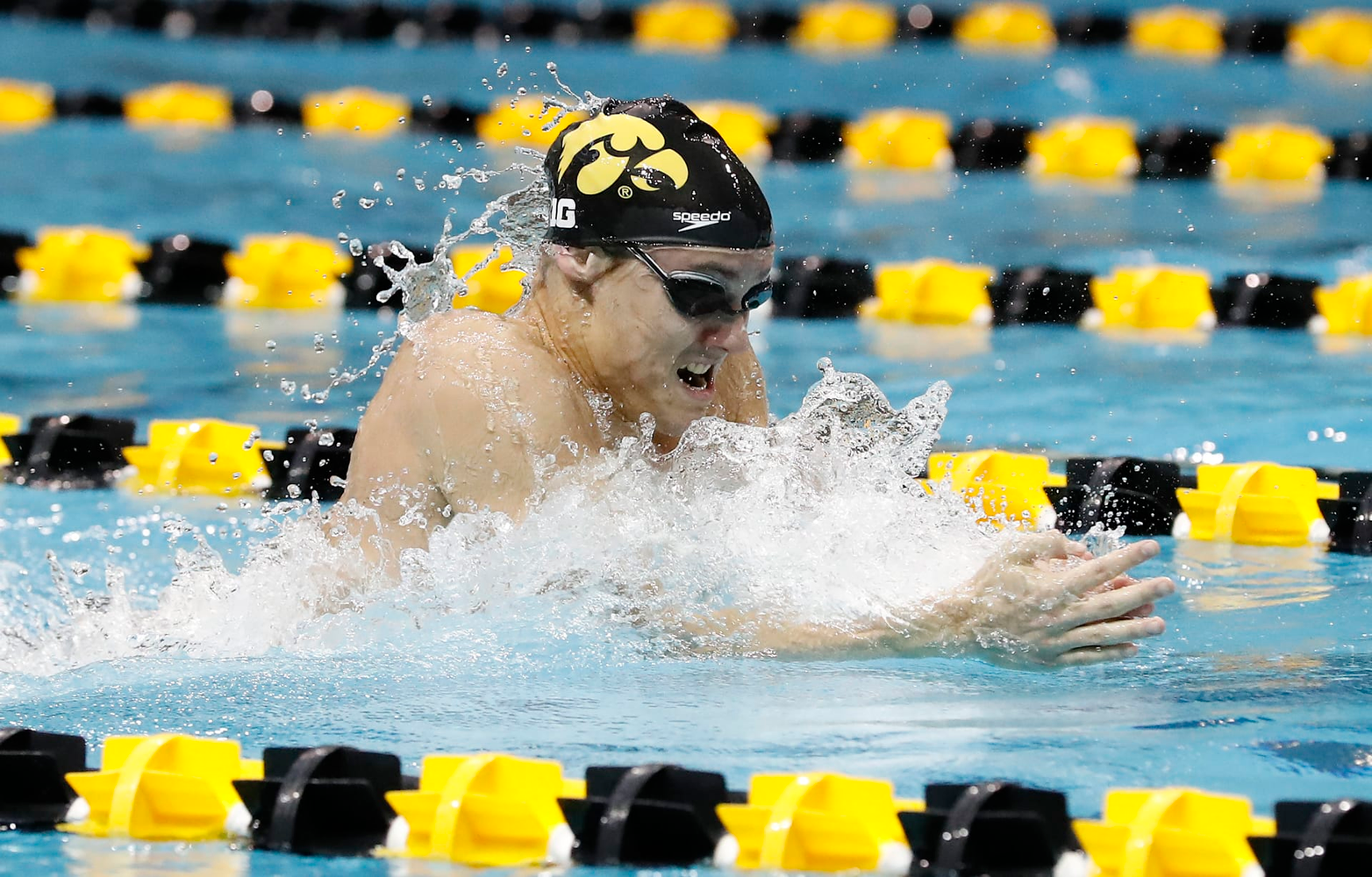 Here is an event-by-event breakdown of the 2009-10 Hawkeyes:
Junior Katarina Tour
Freestyle
The women's team returns seniors Julie deBruin and Christine Kuczek, sophomore Daniela Cubelic in the sprints, and junior Verity Hicks in the distance races. Kuczek set the school 100 free mark (50.21) last season, and also led Iowa in the 50 free (23.32). deBruin has the second-fastest 50 free time (23.18) in school history. Cubelic provided solid depth, posting times in the 50 (23.52) and 100 free (50.79) that rank in the top 10 on Iowa's all-time best performers list in her first season. Hicks, a native of Pukekhoe, New Zealand, earned a spot on the New Zealand World University Games team last spring. She led Iowa in the 200 (1:49.48) and 500 free (4:53.94) last year, which rank third and sixth, respectively, all-time at Iowa. She also returns the top times in the 500 (4:48.65) and 1,000 free (10:02.82) for 2009-10. Freshman Lauren Eytalis (Bloomington, IL) looks to be the best bet to replace Ashley Dell's team-leading time in the 1,650 free.
The men's team will be led by sophomores Ryan Phelan, Duncan Partridge and Paul Gordon in the sprints, while freshman Jordan Huff (Dubuque, IA) brings in some outstanding times. Senior co-captain Nick Divan and freshman Pawel Gilski (Olsztyn, Poland) will lead Iowa in the distance freestyle races.
Phelan posted an NCAA "B" cut in the 50 free last year (19.98), which ranks fourth all-time at Iowa. Partridge cracked the all-time top 10 list in the 50 (20.24) and 100 free (44.18). Gordon and Huff will also be counted on to replace Conor Dwyer, who set the school 100 free record (43.67) and ranks second all-time at Iowa in the 200 free. Huff's best converted100 free time to date of 43.50 actually breaks Dwyer's school record by .17 seconds and his best 200 free time of 1:36.62 would rank fifth all-time at Iowa.
Divan led Iowa in the 500 (4:21.25), 1,000 (9:27.50) and 1,650 free (15:14.78) last year, posting NCAA "B" cuts in the 500 and 1,650 races.
Backstroke
Sophomore Danielle Carty and Cubelic, and senior Hilary Leigh return after leading the Hawkeye women in the backstroke last season. Carty posted the team-best 100 back (55.31), while Cubelic led Iowa in the 200 back (2:00.67). All three Hawkeyes posted times that cracked the all-time top 10 last year. Carty competed at the 2009 Canadian World Championship trials in Montreal in July, earning a world ranking of 46th in the 50 back. She was also named team captain of the 2009 Canada Games in August. Freshman Sarah Galvin (Glen Ellyn, IL) and transfer Grace Borchers (Evanston, IL) will provide solid depth.
Junior co-captain Max Dittmer, junior Bryan Hill, Huff and freshman Byron Butler (New Berlin, WI) are expected to lead the Iowa men in the backstroke. Dittmer posted the team's top times in the 100 (49.41) and 200 back (1:48.33) last season, cracking Iowa's all-time top 10 in both races. Huff's best 100 back time of 49.25 would rank fourth all-time at Iowa, while Hill and Butler possess solid times in both races.
Junior Max Dittmer
Breaststroke
Junior Katarina Tour returns after a phenomenal 2008-09 where she earned the Hawkeye women's swimming team MVP honors. She set school records in the 100 breast (1:01.45), 100 fly (54.61) and 200 IM (2:01.33), and swam on the school-record setting 200 medley (1:41.33) and 400 free (3:21.27) relays. She was Iowa's top swimming finisher at the Big Ten Championships, placing eighth in the 100 breast. Her school-record time of 1:01.45 in that event met an NCAA "B" cut. Senior Julie Feingold led the Hawkeyes in the 200 breast (2:20.18) last season, and her best times in the 100 and 200 breast rank in Iowa's all-time top 10. Sophomore Dana Davidsen and freshman Madeline Scarborough (Wheaton, IL) will provide depth.
Junior Sean Hagan posted the top 100 (54.93) and 200 breast (1:59.89) times for the men's team last season, becoming only the fourth Hawkeye in school history to break the 2:00 mark in the 200 breast. His best time in both events rank fourth all-time at Iowa. Phelan, senior Matt Ryan and junior Zane Hugo will also swim these events.
Butterfly
Tour led the women in the 100 fly with her school-record setting mark of 54.61, becoming the first Hawkeye to break 55 seconds in that event. Senior Laura Mozdzen led the Hawkeyes in the 200 fly (2:03.37), which ranks fourth all-time at Iowa, as does her best 100 fly mark of 55.66. Sophomore Sophie Borchers will add depth.
Sophomore Brian Tremml led the Hawkeyes in the 200 fly (1:50.53) last season, while Butler and Gordon will be called upon in both the 100 and 200 fly races.
Individual Medley
Tour led the Hawkeyes with her school-record 2:01.33 in the 200 IM last season, while Feingold posted the fastest 400 IM time (4:26.49) of the year. Mozdzen, Galvin and Eytalis will also compete in these races.
Hagan led the Hawkeyes in the 200 IM (1:49.79), while Tremml posted the team-best 400 IM time of 3:59.24. Gordon, Divan, Dittmer, Huff and freshman Donny Warren (Dubuque, IA) will all provide quality depth in both races.
Relays
The only thing preventing all five women's relays from returning fully intact is the graduation of Alison Gschwend. Kuczek, deBruin and Cubelic return from the school-record setting 200 free relay (1:32.37), while Cubelic, Kuczek and Tour are back from the 400 free relay that posted a school record and an NCAA "B" cut of 3:21.27. Kuczek, Hicks and Cubelic return from the 800 free relay that posted the second-fastest time in school history (7:21.08). The 200 medley relay of Carty, Tour, Cubelic and deBruin is looking to drop their school-record setting and NCAA "B" cut time of 1:41.33 from last season. The 400 medley relay of Carty, Tour, Mozdzen and Kuczek also returns intact after posting a team-leading 3:43.73, which ranks second all-time at Iowa.
The Hawkeye men return three legs of the 200 and 400 free relays that posted NCAA "B" cuts, and two legs of the 800 free relay that qualified for nationals. Partridge, Phelan and Hagan swam on last year's team-leading 200 free relay (1:19.59) that ranks fourth in school history. Gordon joined Partridge and Phelan on the 400 free relay that swam a 2:55.19 to rank second all-time at Iowa. Divan and senior Brian Farris return from the team-leading 800 free relay (6:32.74). The entire team-leading 200 medley relay of Dittmer, Hagan, junior Richard Salhus and Partridge returns, while Dittmer, Hagan and Partridge swam on the team-leading 400 medley relay last season.
Sophomore Danielle Carty
Diving
Junior Veronica Rydze returns to lead the Iowa women as senior Deidre Freeman is taking a redshirt season to study abroad. The duo placed seventh on three-meter synchro at the 2009 U.S. Diving Nationals in August, while Freeman placed 10th on three-meter. The pair also competed at the National Preliminary Zone C Diving Meet in Minneapolis in July. Freeman took home the meet's high point award, tallying 55 points after winning the one-meter, winning the three-meter synchronized event with Rydze and placing third on the three-meter board. Rydze placed seventh on one-meter. Freeman led Iowa in the one and three-meter events last year, placing eighth on three-meter and 12th on one-meter at the Big Ten Championships. She earned the team diving MVP award last season after scoring the most team points at the conference meet.
Rydze will be joined by senior Brittany Logan and freshman Mary Sue LeMay (Sterling, IL). Logan competed for the University of Iowa women's gymnastics team for two years, and is using her extra year of eligibility with the diving squad.
Seniors Michael Gilligan and Frank Van Dijkhuizen return for the men's team, and freshman Jay Bell (Cary, NY) will make his collegiate debut with the Hawkeyes. VanDijkhuizen led the team on the one and three-meter boards last season, while Gilligan led the Hawkeyes in the platform event.