Box Score
Sept. 1, 2012
Box Score | Notes | Photo Gallery

CHICAGO — It was an afternoon of what-ifs for the University of Iowa football team until sophomore Damon Bullock's 23-yard touchdown run lifted the Hawkeyes to an 18-17 victory over Northern Illinois on Saturday at Soldier Field.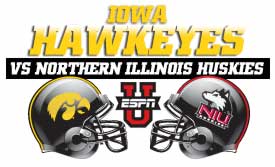 The win is Iowa's 12th straight season-opening victory, and it snapped the Huskies' FBS-best nine-game winning streak.
"We certainly knew this was going to be a challenge, and it certainly proved to be," said UI head coach Kirk Ferentz. "I'm really proud of our effort and the way the guys really hung in there."
The turn in Iowa fortunes can be traced back to an empty drive midway through the fourth quarter. The Hawkeyes moved the ball into Northern Illinois territory, before the drive sputtered with nearly six minutes to play. Pooch punter John Weinke — a former quarterback — hit a 43-yarder that was downed at the 1-yard line by senior Greg Castillo.
The punt energized the pro-Iowa crowd of 52,117 fans.
After the play was upheld by instant replay, Jamal Womble rushed 3-yards to the left side before a false start penalty brought the ball back to the 2. Womble rushed again, where he was met for a loss by junior Dominic Alvis and NIU's third down pass attempt sailed incomplete. Iowa then took possession at the NIU 24 yard line following an 11-yard punt return by senior Micah Hyde.
Needing a touchdown, the Hawkeye offense produced when it mattered most. Bullock rushed for no gain on first down before senior quarterback James Vandenberg had a 1-yard completion to tight end Zach Derby on second down. Bullock then took a handoff, bounced to the outside and made a 23-yard dash to the pylon to give Iowa the 18-17 lead.
"It was a play we talked about at halftime based off of something that happened in the second quarter," said Ferentz of Bullock's score. "It was a huge play because clearly up until that point our biggest issue was getting into the endzone."
1st
2nd
3rd
4th
Final
3
3
3
9
18
0
10
7
0
17
Stat Comparisons
First Downs
23
12
Rushing Att.-Yds
49-139
36-147
Passing Yds
129
54
Passing (C-A-I)
21-33-0
6-16-0
Total Offense
82-268
52-201
Punts-Avg.
5-41.8
6-37.7
Fumbles-Lost
2-0
2-1
Penalties-Yds
3-30
5-21
Time of Possession
38:42
21:18
3rd-Down Conversions
8-18
6-15
4th-Down Conversions
1-1
0-1
Northern Illinois Statistical Leaders
Passing
CMP
ATT
YDs
TD
Jordan Lynch
6
16
54
0
Rushing
CAR
YDs
AVG
TD
Jordan Lynch
18
119
6.6
1
Receiving
REC
YDs
AVG
TD
Martel Moore
3
39
13.0
0
Defense
S-A
TOTAL
SACKS
INT
Jimmy Ward
7-5
12
0
0
Bullock was the Iowa "bell cow" in the game, finishing with a career-best 150 yards on 30 carries. Vandenberg completed 21-of-33 attempts for 129 yards; senior Keenan Davis(five catches, 41 yards) and sophomore Kevonte Martin-Manley (six catches, 31 yards) combined for 11 catches for 72 yards.
"I thought he made some really tough runs, and did some good things," said Ferentz of Bullock. "I'm certainly pleased with this being a first step for him, but as much as anything, him playing the entire game the way he did."
The Hawkeye offense outgained Northern Illinois, 268-201. Iowa nearly doubled the Huskies in time of possession, finishing with a 38:42-to-21:18 advantage.
Junior linebackers James Morris and Anthony Hitchens led the Hawkeye defense, finishing with eight tackles apiece. Alvis and senior Joe Gaglione each registered a sack in the contest. The UI defense allowed 201 yards of total offense, including just 54 through the air.
After trailing 10-6 at the half, the defense gave the Hawkeyes some momentum by forcing the game's only turnover on the first possession of the second half. On third-and-7 deep in NIU territory, Gaglione forced a Lynch fumble and sophomore Carl Davis pounced on it at the 14.
The Hawkeyes needed four downs to convert a first down — fullback Mark Weisman fell forward to pick it up on a fourth and 2 — but the drive stalled. Vandenberg's first down attempt to Martin-Manley was too hot on a crossing route in the end zone, Bullock was stopped for no gain on second down and Vandenberg's third down attempt was batted down by a NIU crowd. Junior kicker Mike Meyer cut the deficit to 10-9 with a 22-yard field goal.
The Huskies got the game's only "big play" from Lynch on the ensuing possession to take a 17-9 lead. The UI defense held and forced a third and long, but after NIU spread out the Hawkeye defense, Lynch found his way through the initial surge on a draw before breaking through and out running the UI defenders for a 73-yard score down the right side line.
The Hawkeyes used the fourth field goal of the day by Meyer to cut the margin to 17-12. Iowa moved the ball to the NIU 26 on a pair of completions from Vandenberg to Martin-Manley. NIU's Sean Evans put a halt on the drive with a 10-yard sack and Vandenberg followed with a pair of incompletions, forcing a long field goal attempt.
Meyer, who had hit on 3-of-4 attempts in the game, drilled a career-long 50-yarder to keep Iowa's hopes alive. The four field goal makes and five attempts tie Iowa school records.
The Hawkeyes moved the ball consistently in the opening half, but they couldn't find their way into the end zone, despite two red zone opportunities.
Iowa went 58 yards over 14 plays on their first drive of the season to grab the early lead. Bullock was the workhorse in the back field, rushing nine times for 43 yards to surpass his freshman yard total (20 yards). Meyer converted a 34 yard field goal to give Iowa the 3-0 lead with 8:08 remaining in the first quarter.
Following a 51-yard punt by true freshman Connor Kornbrath, Northern Illinois used an 11-play, 61 yard drive to grab the 7-3 advantage. The Huskies ground attack led to the touchdown drive as NIU churned out 47 yards on nine carries before Lynch bulled his way into the end zone on the first play of the second quarter.
The Hawkeyes then put together their second strong drive, going 41 yards over 10 plays following the NIU score. Vandenberg connected on pair of nine yard completions to C.J. Fiedorowicz and Derby to move the ball to the 36-yardline. Following a 4-yard run by Bullock for a first down, Iowa's drive stalled at the 22-yardline, and the Hawkeyes came up empty when Meyers's 40-yard field goal attempt stayed right off of his foot.
After the Iowa defense forced a three-and-out, Iowa's offense drove 47 yards to the NIU 11. On a third-and-6 from the 33 yard line, Vandenberg's 16-yard scramble moved the Hawkeyes into the red zone. Two Greg Garmon rushes advanced Iowa to the 13-yardline, but Vandenberg's third down attempt went incomplete, forcing the Hawkeyes to settle for Meyer's 29-yard field goal to cut the deficit to 7-6.
The Huskies answered with a 10-play, 64-yard drive to push their advantage to 10-6. A pass interference call on Iowa's Micah Hyde moved the ball to midfield before Lynch and wide receiver Martel Moore connected for a 25-yard gain to the Iowa 12. The Hawkeye defense buckled down in the red zone, before surrendering a 28-yard Matthew Sims field goal.
Iowa (1-0) returns to action Sept. 8, hosting Iowa State in its home opener in an Iowa Corn Cy-Hawk series matchup inside Kinnick Stadium. Kickoff is set for 2:30 p.m. (CT).