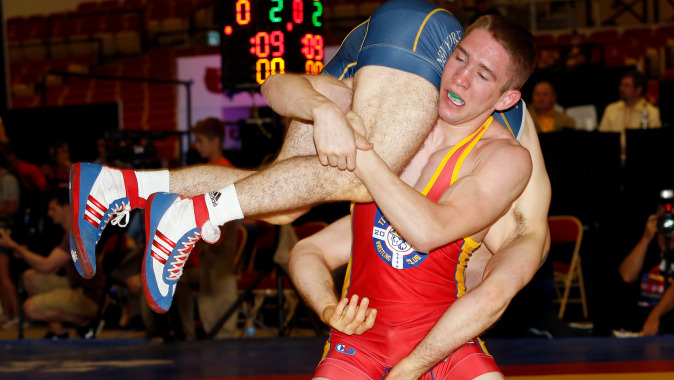 June 23, 2014
IOWA CITY, Iowa — University of Iowa national champion Matt McDonough swept Cornell's Nahshon Garrett in a best-of-three challenge series and will represent the United States at 57 kg at the 2014 University World Championships in Pecs, Hungary on July 8-12.
"It feels good but I'm already thinking about the next step," said McDonough, who was a United States Junior World Team member in 2010. "I have a short turnaround so there is not a lot of time to pat yourself on the back. It is time to look at the next challenge."
McDonough defeated Garrett, 16-10, 15-5. He scored 14 of the final 16 points to erase an 8-2 deficit in the opening round, and built a 6-0 lead en route to a technical fall in Round 2.
"I knew he was explosive, so it was a matter of eliminating space. I have been working hard at getting ahold of guys and effectively getting to where I am good. I want to grab ahold and get to the leg. Today was about keeping cool and doing what I need to do," McDonough said.
"You know he is going to come out twice as hard in Round 2, so you can't think it is over. Obviously there was some momentum after the first match, so you look at it like you're one win away from a World Team, and you rule with an iron fist."
McDonough is the fourth Hawkeye, and third lightweight, to earn a spot on a 2014 United States World Team. Tony Ramos is the United States 57 kg representative at the World Championships, and Thomas Gilman is the 55 kg representative at the Junior World Championships.
UI national champion Brent Metcalf will represent the United States at 65 kg at the World Championships.
McDonough will be the first Hawkeye to take the mat when he leaves for Hungary from the U.S. training camp on July 3.
"I was the first one out throughout my collegiate career, so it's kind of exciting to know I'll be able to go out and set the pace for my teammates," he said. "I'm going to wrestle how I know best, and that is with intensity for six minutes, or however long it takes."
2014 University World Team
57 kg: Matt McDonough
61 kg: B.J. Futrell
65 kg: Anthony Ashnault
70 kg: James Green
74 kg: Tyler Caldwell
86 kg: Chris Perry
97 kg: Dustin Kilgore
125 kg: Tyrell Fortune