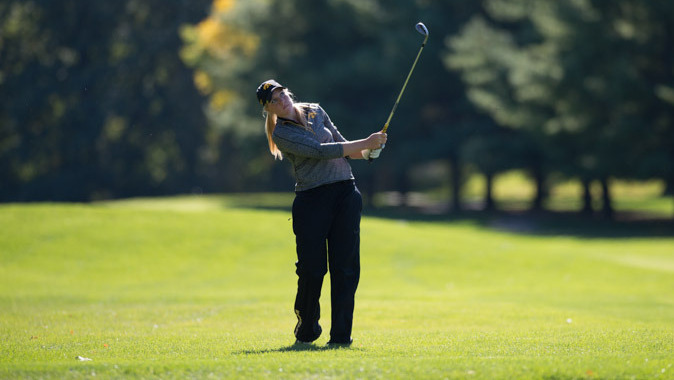 July 23, 2014
IOWA CITY, Iowa — University of Iowa sophomore Jessie Sindlinger and junior Amy Ihm registered top-five finishes at the 90th Iowa Women's Amateur Championship at Centennial Oaks Golf Club in Waverly, Iowa.
Sindlinger, the 36-hole leader, finished fourth overall with a three-round total of 227 (76, 72, 79), and Ihm finished fifth with a total of 229 (76, 79, 74). Christy Nelson and Megan Furnish tied for first (221).
Sindlinger, Iowa women's golf's 2014 Sportsmanship Award honoree, competed in every tournament as a freshman, posting a 77.1 stroke average over 34 rounds — the second-lowest average on the team. The Charles City, Iowa, native led the Hawkeyes at four events and recorded two top-20 and one top-10 finish, including the Dick McGuire Invitational (T18), Challenge at Onion Creek (T11), and Rainy Day Shootout (T8).
Named the 2013 Senior Girls Golf Athlete of the Year by the National High School Coaches Association, she was featured in the July 29 (2013) issue of Sports Illustrated — one of six athletes highlighted in 'Faces in the Crowd,' a weekly feature highlighting amateur athletes around the nation. Last summer, Sindlinger qualified for the 38th PGA Junior Championship at Trump National Golf Course in Washington, D.C. She competed at the U.S. Women's Amateur Public Links Championship in DuPost, Washington, earlier this summer.
Ihm, a Peosta, Iowa, native, competed in four tournaments last year, posting an 80.64 stroke average. She led the Hawkeyes at the Rainy Day Shootout and carded a 241 (80, 85, 76) at the Lady Buckeye Invitational to record a season best 54-hole performance.