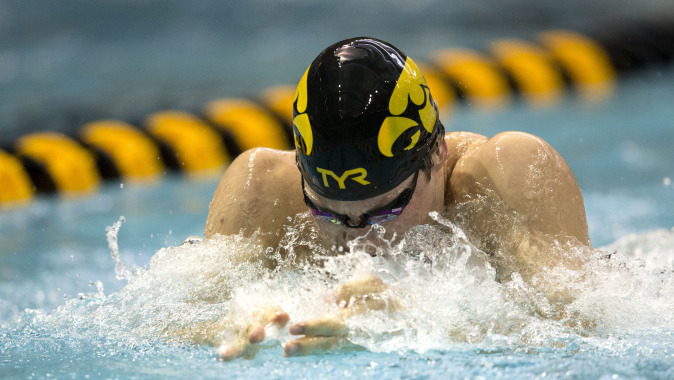 August 8, 2014
IRVINE, Calif. — Three University of Iowa swimmers — Mike Nelson, Grant Betulius and Emma Sougstad — took part in the Hawkeyes second day of competition at the Phillips 66 National Championships in Irvine, California, on Friday.
Sougstad, competed in the 50-meter breaststroke where she recorded a qualifying time of 31.49 which earned a 10th place finish and a bid to the finals. Later on in competition, Sougstad posted a time of 31.69 in the finals.
Nelson, who also competed in the 50-meter breastroke, posted a time of 28.74. Nelson placed 29th in the qualifying session.
Betulius, who competed in the 50-meter backstroke, came in 48th place with a qualifying time of 27.31.
Six Hawkeyes will take the pool again tomorrow afternoon. Nelson and Sougstad will compete in the 100-meter breaststroke. Nelson and Betulius will also compete in the 100-meter medley relay with teammates Kyle Patnode and Brian Donatelli.
Live results and streaming video of the Phillips 66 National Championships can be viewed at usaswimming.org