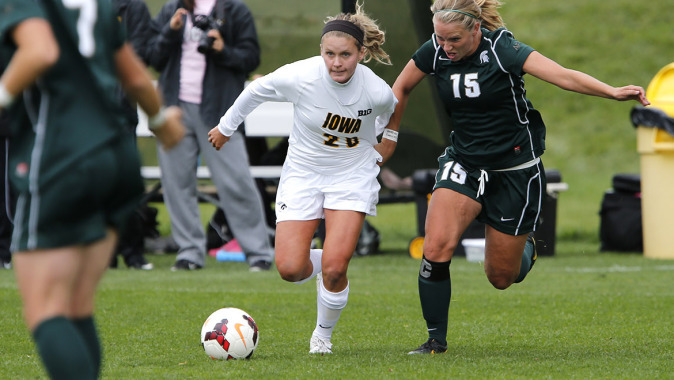 Aug. 13, 2014
IOWA CITY, Iowa — The University of Iowa women's soccer team opens the 2014 season with an exhibition contest at DePaul on Thursday at 4 p.m. (CT) at Wish Field in Chicago.
Iowa is coming off its most successful season in program history after winning a school record 15 games and qualifying for the NCAA Tournament for the first time.
First-year head coach Dave DiIanni takes over a Hawkeye squad that features nine returning starters, nine incoming freshmen, and one transfer in Natalie Krygier. Iowa is led by second-team All-Big Ten honorees Cloe Lacasse and Melanie Pickert.
The Hawkeyes are 25-1 in nonconference matches over the past three seasons with their only blemish coming at No. 23 Notre Dame in last year's opening round of the NCAA Tournament. Iowa defeated DePaul, 3-0, in 2011 and leads the all-time series, 4-1.
DePaul finished as the runner-up in the Big East Conference last season and bowed out of the NCAA Tournament after a first round loss to Indiana to finish 13-6-2 overall. The Blue Demons return 7 starters, including the 2013 Big East Goalkeeper of the Year and All-Big East first-team selection, Alejandro Godinez.
Live stats for Thursday's exhibition contest will be available
here. You can also click the GameTracker link on the Iowa women's soccer schedule page.
Iowa opens the regular season on the road with trips to Northern Iowa on Aug. 22 and Illinois-Chicago on Aug. 24.