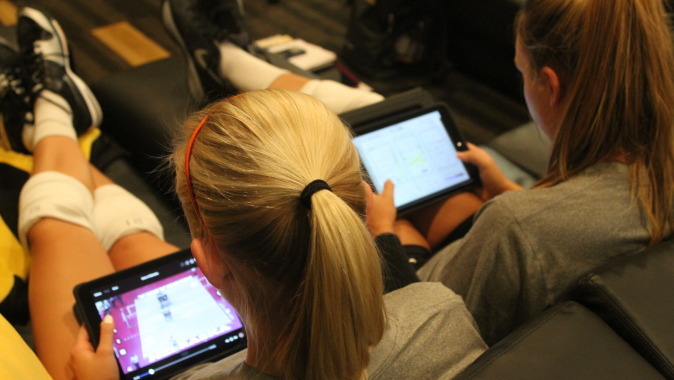 Oct. 1, 2014
Editor's Note: The following first appeared in the University of Iowa's Hawk Talk Daily, an e-newsletter that offers a daily look at the Iowa Hawkeyes, delivered free each morning to thousands of fans of the Hawkeyes worldwide.
By JIL PRICE
hawkeyesports.com
IOWA CITY, Iowa — Select University of Iowa athletic teams have noticed a change in scouting reports, coach feedback, and individual instruction this year. The difference? Volleyball, field hockey, football, men's basketball, and women's basketball teams are all using iPads to communicate and get a leg up on the competition.
To make this possible, the UI created a Hawkeye Student-Athlete Technology Fund. Donors were given the opportunity to support technological advances that would benefit student-athletes.
"Providing the best student-athlete experience is always a priority for us," said UI director of athletics Gary Barta. "Technology is one the areas we were able to invest in that allows student-athletes to be more efficient and effective. We are also thankful that some of our donors expressed an interest in investing in technology and because of this, we will continue to explore these types of opportunities."
First-year head volleyball coach Bond Shymansky is excited about what the iPads have helped his team and staff accomplish so far this season.
"The iPads are great for sharing video with our team," Shymansky said. "We share video on our opponents, our team, individual reps, and team reps. We can show them in small bites of video clips, and they can access that information anywhere on campus or where there is a Wi-Fi connection.
"The capability they have to consume the information on their own time makes it easy for them and for us as coaches to generate a higher volleyball IQ on our team."
The returners have also noticed the benefits of having access to video footage and feedback from their coaches at all times.
"Being able to watch film on our own time, hear feedback from our coaches and watch footage from games and practices with their input has been good for us," senior Kari Mueller said. "It has been nice to watch that information the day or night before practice, learn it, and take all that information into the practice or the game.
"We get instant feedback. When we watched film as a team without our iPads last year, we wouldn't get individual feedback until a few days later. Now we can watch ourselves and our opponents instantly together and implement it sooner, which helps us improve our game."
The implementation of the iPads is also helping student-athletes in the academic arena. They have the ability to check their class schedules, schedule tutoring sessions, and view information in the Grades First application. Coaching staff members also have access to each student-athlete's class schedules through their iPads, which makes scheduling practices, meetings, and meals an easy process.
It is a valuable communication tool as well. Team members and coaches can message one another to spread updates instead of calling around or sending a text message.
The Hawkeyes return to action Friday, hosting Ohio State at 7 p.m. (CT) on Mediacom Court inside Carver-Hawkeyes Arena.