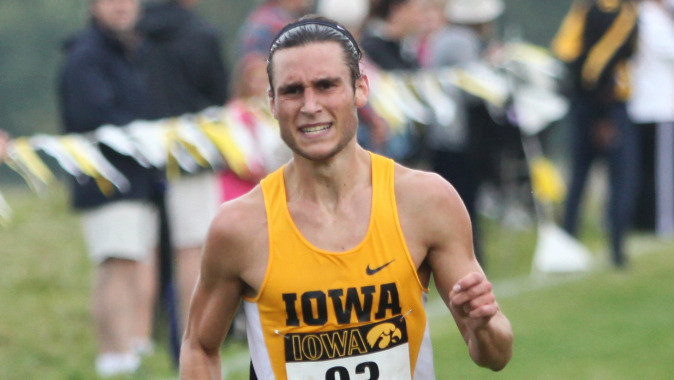 Oct. 1, 2014
Weekly Release

THIS WEEK
The University of Iowa cross country team heads to South Bend, Indiana for the 59th annual Notre Dame Invitational on Friday. The women's Gold division 5K race is set for 2 p.m., while the men's 5-mile Blue division race is at 5 p.m. The event will take place at the Notre Dame Golf Course.
IN THE RANKINGS
Following the Big Ten Preview, the men's team moved up two spots to the No. 10 spot in the most recent USTFCCCA Regional Rankings released Monday. The women's team came in at No. 15 in the Midwest Region.
SCOUTING THE FIELD
The Iowa women will compete in the Gold division, which features 26 teams and six Division 1 schools. Among the teams competing are Pittsburgh (7th/Mid-Atlantic Region), Richmond (14th/Southeast Region), Southern Utah (12th/Mountain Region), and Xavier (13th/Great Lakes Region).
The Iowa men will compete in a 24-team field, which includes three other Big Ten schools. The Hawkeyes meet Penn State (5th/Mid-Atlantic Region) and Purdue (12th/Great Lakes Region) for the first time this season. Michigan will also make an appearance (3rd/Great Lakes Region).
HAWKEYES ON A ROLL
The Hawkeye men have recorded two first-place team finishes and one second place team finish this season. Iowa opened its season with a top finish at the Bulldog 4K Classic on Aug. 29th, and followed up with another first-place finish at the Illinois State Invitational on Sept. 12.
In their last outing on Sept. 20, the Hawkeyes collected a second place finish at the Big Ten Preview, which featured four Big Ten teams — Michigan (1st), Wisconsin (3rd), and Kansas State (4th). Iowa was led by seniors Kevin Lewis and Ben Witt, and sophomore Ben Anderson. Lewis has led the Hawkeyes in his last six races.
2014 BIG TEN CHAMPIONSHIPS
Iowa will host the 2014 Big Ten Championships at the Ashton Cross Country Course on Nov. 2. This year's meet marks the 100th running of the Big Ten Men's Cross Country Championships. For more information the B1G Championships page at hawkeyesports.com.
THOUGHTS FROM ANDERSON
"This will be the best meet to date. This is certainly the chance to run in a large field, on a fast course, against not only nationally ranked teams, but some of our Big Ten competitors. Based on the training and racing so far, the expectation for the men should be to do very, very well. On the women's side, we are finally getting everybody healthy and will hopefully see a performance more in line with Illinois State."
UP NEXT
The Hawkeyes travel to Terre Haute, Indiana, on Oct. 18 for the Pre-National Invitational.