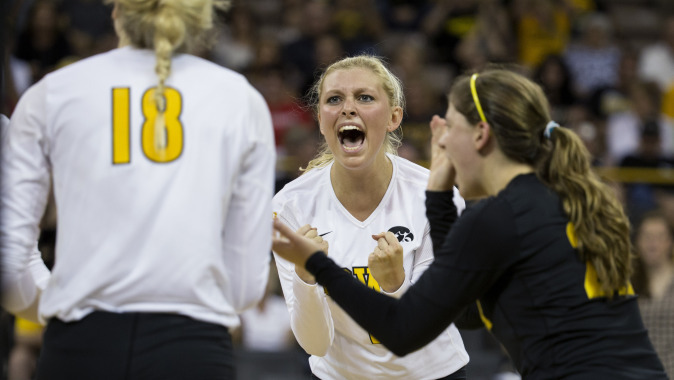 Oct. 1, 2014
Iowa vs. Ohio State/Penn State Notes

A LOOK AT THE WEEKEND
The University of Iowa volleyball team continues its home stand with a pair of contests on Mediacom Court in Carver-Hawkeye Arena, Friday and Saturday. The Hawkeyes face Ohio State Friday, which will be a Blackout match, and conclude the weekend with a match against No. 3 Penn State Saturday.
PROMOTIONS
The first 200 students at Iowa's match against Ohio State on Friday will receive free pizza and a black Iowa volleyball t-shirt. Giveaways can be claimed at the South entrance of Carver-Hawkeye Arena beginning at 6 p.m. The first 200 fans at Saturday's match against Penn State will receive a complimentary Iowa volleyball tote bag.
SEASON TICKETS
Iowa volleyball tickets are on sale now through the UI Athletics Ticket Office. Courtside seats are $60 per seat ($48 for faculty and staff) and general admission tickets are $30 each ($24 for faculty and staff). Fans that purchase general admission seats can choose to the same reserved seats at each match for the same price. Youth can attend matches for free.
Season ticket packages include a t-shirt and access to Chalk Talks with the Iowa coaching staff in the Hadley Club Room 30 minutes before every home match on the first floor of Carver-Hawkeye Arena. Tickets can be purchased online at hawkeyesports.com, by phone at 1-800-IA-HAWKS or in person at the UI Athletics Ticket Office in Carver-Hawkeye Arena.
FOLLOW ALONG Fans who cannot attend the matches in person can watch a live video stream online through BTN Plus available at btn2go.com and BTN2Go mobile apps. Audio play-by-play by Tim Keating is also available through Hawkeye All Access, which is located at hawkeyesports.com. Links to Gametracker (live stats) are available for each match on the volleyball schedule page at hawkeyesports.com.
LINK UP WITH THE HAWKEYES
For an inside look at the Iowa Volleyball program and to access exclusive coverage, "like" University of Iowa Volleyball on Facebook and follow @IowaVolleyball on Twitter. Follow the team's live Twitter feed, @IowaVB_Live, for more frequent in-match tweets, play-by-play, statistics and more.
ALL-TIME
? Ohio State leads Iowa, 9-56, all-time.
? The Hawkeyes last defeated the Buckeyes on Oct. 26, 2008, in four sets (25-23, 19-25, 25-15, 25-22).
? Iowa has yet to defeat Penn State, as the Nittany Lions lead the all-time series, 46-0.
A NIGHT TO REMEMBER
The fourth-largest crowd in program history (2,631) attended the Hawkeye volleyball home opener against No. 8 Nebraska on Sept. 27. Iowa ultimately fell to the Cornhuskers in three sets (25-21, 25-13, 25-16), but the program appreciated the support and energy of the crowd.
TOUGH B1G START
The Hawkeyes started the Big Ten with a pair of matches against No. 8-ranked Nebraska last week. The team fell to the Cornhuskers, 3-0, in Lincoln on Sept. 24 and dropped its second match of the week to Nebraska, 3-0, at home on Sept. 27.
In two conference matches played, Alessandra Dietz leads the team with a .333 attack percentage and 10 kills, while Alex Lovell compiled a team-high 17 kills and 2.83 kill per set average. Michelle Fugarino is anchoring the back line with 20 digs (3.33 per set), Alyssa Klostermann has dished out a team-high 37 assists (6.17 per set) and Mikaela Gunderson is leading the blocking front with five (0.83) blocks in the stretch.
CLIMBING THE CHARTS
Senior Alessandra Dietz ranks second all-time at Iowa with a .272 career attack percentage and 18th all-time with 228 career blocks, while fellow senior Alex Lovell is currently 10th all-time at Iowa with 1,244 career kills.
APPROACHING A MILESTONE
First-year head coach Bond Shymansky owns a career record of 298-114 (.723) and is just two wins from logging his 300th career victory. This is his 13th season as a head coach. He spent the past five seasons (2009-13) at the helm of the Marquette volleyball program and seven seasons before that leading Georgia Tech (2002-09).
NATIONALLY SPEAKING
? As a team, Iowa ranks 42nd nationally in assists per set (12.83), 46th in blocks per set (2.49), 47th in kills per set (13.69), 80th in service aces per set (1.43), and 92nd in hitting percentage (.232).
? Alessandra Dietz is 24th nationally in hitting percentage (.406), while Taylin Alm is 99th (.348) in the same category.
ON DECK
The Hawkeyes are back on the road for a couple Big Ten matches, Oct. 10-11. Iowa takes on Michigan on Friday and Michigan State on Saturday. Both matches will begin at 6 p.m. (CT).
BIG TEN NETWORK COVERAGE
The University of Iowa volleyball team competes live on Big Ten Network (BTN) and BTN Plus 13 times this season. The Hawkeyes' match against Illinois on Oct. 15 in Iowa City will be televised live on BTN. First serve has been changed from 7 p.m. (CT) to 8 p.m. to accommodate the schedule of the network.
Thirteen Iowa matches will be shown via live stream online through BTN Plus. To see if your cable package gives you access to BTN Plus content, sign up for BTN Plus or learn more about it, visit btn2go.com.
A NEW ERA
Bond Shymansky was named the ninth head coach of the Iowa volleyball program on Jan. 31, 2014. The UI alum and Iowa City, Iowa, native owns a career record of 292-110 (.726) amidst his 13th season.
Shymansky came to Iowa following five seasons (2009-13) at the helm of the Marquette volleyball program, where he guided the Golden Eagles to their first NCAA berth, NCAA victory, and first Big East regular season title. Marquette also won a Big East Tournament Championship, and made three-straight postseason appearances (2011-13).
Shymansky added associate head coach Michaela Franklin and assistant coach Jackie Simpson on Feb. 25, 2014 and completed his staff with the addition of director of operations Danielle Carlson.
#GREATTODAY
The Hawkeye volleyball program has been focused on one moniker since the arrival of head coach Bond Shymansky and his staff. Whether student-athletes are on the court, training in the weight room or learning in the classroom, the Hawkeyes want to be #GreatToday. A major shift in a program can be challenging, but striving for greatness in each area with exceptional effort has been helpful for the group.