Box Score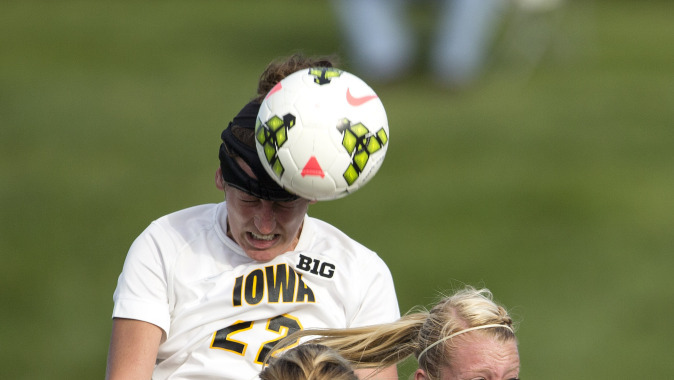 Oct. 2, 2014
EAST LANSING, Mich. — Senior Melanie Pickert's fifth goal of the season sent the University of Iowa women's soccer team past Michigan State, 1-0, on Thursday afternoon at the DeMartin Soccer Complex. The win puts Iowa back on the winning trail and gives it its fourth conference victory of the season.
"Today was such an important game for our team and this program," said UI head coach Dave DiIanni. "It was an opportunity for us to show some resiliency and character as individuals and as a team."
After a stand still opening half, the Hawkeyes got on the board in the 52nd minute of action when sophomore Corey Burns booted a corner kick to Pickert, who headed it into the upper left corner of the net past Spartan goalkeeper Courtney Clem. The goal marks the third time Pickert has scored off a corner kick and the second time it came off the foot of Burns.
Limited to just 11 shots on the day, Michigan State had a chance to send the game into overtime with 18 seconds left when Allyson Krause sent a desperation shot toward the Iowa net, but junior Hannah Clark was there to make the stop and secure the shutout victory for the Hawkeyes.
"Michigan State is a tough team to play with the athleticism they have up front," said DiIanni. "It puts so much pressure on your back line. Our team did a good job of weathering the early storm in the first half and controlling a bit more tempo within the game with better possessions and limiting the quick striking ability of the Spartans."
Clark collected five saves en route to her fifth shutout of the season, giving her the all-time record for career shutouts in program history with 16. All of Iowa's wins in Big Ten play have come via the shutout.
Iowa fired off 22 shots, marking the third time this season the team has posted 20 or more shots in a game.
The Hawkeyes (9-3-0, 4-2-0) return to action Sunday when they make the trip to Ann Arbor to face the Michigan Wolverines (9-3-0, 5-1-0) at 1 p.m. (CT).?