Oct. 4, 2014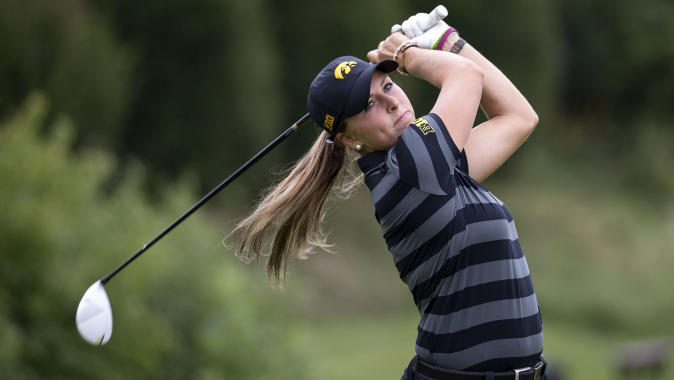 ?
Day 1 Results

IOWA CITY, Iowa — The University of Iowa women's golf team finished the first day of the Diane Thomason Invitational in grand fashion on Saturday at Finkbine Golf Course, tallying a second-round 302, the low round of the day in windy conditions. The Hawkeyes sat in eighth following a first round 326, before moving to third in the 13-team field after round two. Illinois leads heading into Sunday's final round (626), followed by South Dakota State (627) and Iowa (628).
"We got off to a little bit of a rough start this morning," said UI head coach Megan Menzel. "We might have been a little excited and nervous playing on our home course in these conditions, but the team did a good job settling down and had a really good afternoon."
Junior Amy Ihm had a great day for the Hawkeyes, pacing the team with a two round 153 (+9), staying consistent and posting rounds of 77 (+5) and 76 (+4). Ihm made par on 11 holes in the first round. She then turned around and made par on 12 holes in the second round. She is in sixth overall.
Sophomore Jessie Sindlinger also had a nice day for the Hawkeyes, posting a two round 157 (+13), registering rounds of 85 (+13) and 72 (E). Sindlinger made par on six of the back nine holes while also tallying a birdie on holes 10 and 13 during round two, equaling the low round of the tournament (72). She is tied for eighth.
Freshman Jessica Ip also sits tied for eighth place with Sindlinger. Ip posted a two round 157 (+13), with rounds of 79 (+7) and 78 (+6).
Freshman Elisa Suarez registered a 162 (+18), posting rounds of 85 (+13) and then bouncing back with a 77 (+5). She sits tied for 32nd. Senior Shelby Phillips ended the day tied for 44th after a two round 165 (+21). She posted an 88 during round one, before carding a 77 in round two.
Senior Jessie Jordan, junior Briana Midkiff, freshman Morgan Kukla, senior Nicole Rae and freshman Anna Kim all participated as individuals. Rae is second among all individuals (T-17th), posting a two-round 159 (80, 79). Kim is tied for 32nd (83, 79), while Midkiff sits in a tie for 48th (84, 82). Jordan and Kukla are in a tie for 68th (173).
The final round of the Diane Thomason Invitational will conclude with a 9 a.m. (CT) shotgun start on Sunday. Live scoring is available at golfstat.com.