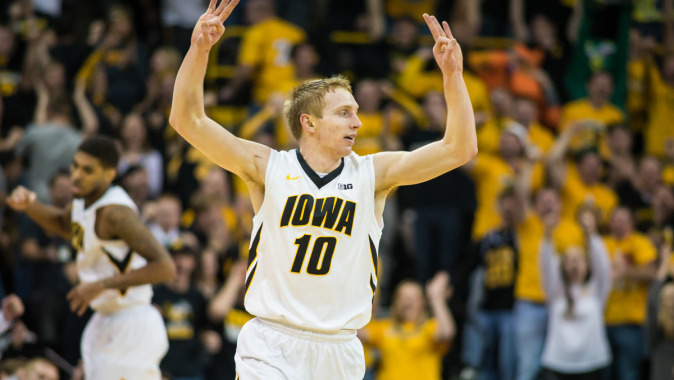 Oct. 6, 2014
Editor's Note: The following first appeared in the University of Iowa's Hawk Talk Daily, an e-newsletter that offers a daily look at the Iowa Hawkeyes, delivered free each morning to thousands of fans of the Hawkeyes worldwide.
IOWA CITY, Iowa — The University of Iowa men's basketball team will hold its first official practice of the 2014-15 season today in Carver-Hawkeye Arena. The anticipation of another exciting season has the Hawkeye players eager to hit the hardwood in preparation for their first regular season contest in November.
Each Hawkeye provided their thoughts on the start of a new season.
Gabriel Olaseni (Sr.)
"I don't feel too many emotions; I'm focused on the task at hand. We're trying to win the Big Ten and return to the NCAA Tournament. You can't let emotions get into it, you just have to go out and execute. I'm looking forward to it."
Kyle Denning (Sr.)
"It has gone by quick ever since the season ended last year with postseason, workouts, offseason workouts, and preseason workouts. My three years have flown by, and I'm looking forward to starting my last year today."
Aaron White (Sr.)
"It's weird to be in my last year. I feel old, but I'm looking forward to it, and I'm just as excited as any other year. I'm ready to get started."
Josh Oglesby (Sr.)
"It feels weird, but also I'm excited to start today and get this thing on the road. I'm going to approach it like it is any year. This is my last year, but it's going to fly by, and I'm looking forward to it and not rushing to get it over with."
Anthony Clemmons (Jr.)
"A lot of us are pumped. We got through conditioning well. I'm going into my third year, and it's exciting. This is a great group of guys."
Mike Gesell (Jr.)
"I can't believe it's already here. We went through a whole fall of conditioning, and I think it was one of our best conditioning sessions since I've been here. Our team is fired up, and we can't wait to get going. It's going to be a special year."
Jarrod Uthoff (Jr.)
"I feel like we have a great group of guys. I think we are all going to mesh well and play together. I'm looking forward to it."
Adam Woodbury (Jr.)
"You have to be ready to go to work. We've been working hard all offseason and need to continue the mindset to keep pushing forward. We had a great preseason camp, and we're ready to continue."
Okey Ukah (Jr.)
"Everyone is excited to get started. I feel everyone worked hard this summer. People were in here 24 hours a day, and I think there is going to be good energy coming from everybody."
Trey Dickerson (So.)
"I'm excited and looking forward to starting the season today. I'm about to begin my career at the NCAA level, and I love it here. This is the best place I've ever been, and I'm ready to get everything going."
Peter Jok (So.)
"We're all excited and ready to start the season. We have some new guys, and we're ready for practice. There is a lot to be excited about."
Brady Ellingson (Fr.)
"I'm very excited. We have put in a lot of work this offseason and personally, I had surgery on my foot so I am still coming back. I want to get back into the groove of things and help the team as much as I can."
Dom Uhl (Fr.)
"I'm excited. I want to practice hard, play tough, and get rebounds. It's something to look forward to. We're one practice closer to the first game, and that's exciting."
Nicholas Baer (Fr.)
"I am excited to get the season going, to see my role progress with the team, and make sure they bring energy to practice each day. I'm trying to help the team get better and succeed in my role as a walk-on."
To request your season tickets for the Hawkeyes'18 regular season home games, call 1-800-IA-HAWKS, click online at hawkeyesports.com or visit the UI Ticket Office during normal business hours at Carver-Hawkeye Arena.