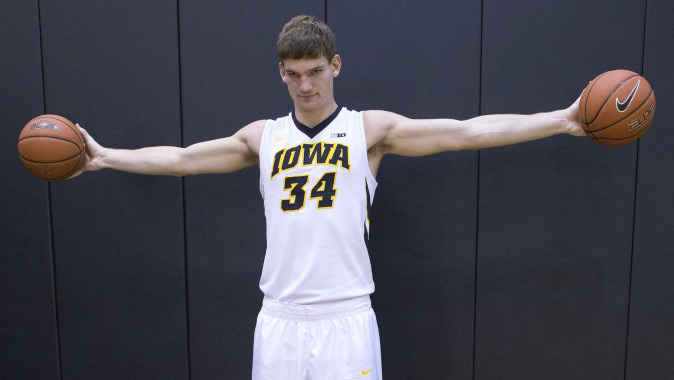 Oct. 7, 2014
Editor's Note: The following first appeared in the University of Iowa's Hawk Talk Daily, an e-newsletter that offers a daily look at the Iowa Hawkeyes, delivered free each morning to thousands of fans of the Hawkeyes worldwide. To receive daily news from the Iowa Hawkeyes, sign up HERE.
By DARREN MILLER
hawkeyesports.com
IOWA CITY, Iowa — At 7-foot, 1-inch, University of Iowa junior Adam Woodbury stands taller than any Hawkeye on the men's basketball roster. His confidence is also at an all-time high.
Woodbury has started all 71 games of his collegiate career and he is coming off his best performance. On March 19, 2014, Iowa played Tennessee in its first NCAA Tournament game in eight seasons. Woodbury finished with a career-high 16 points (8-of-11 from the field) and eight rebounds. He played a career-high 30 minutes.
"I always knew I could do stuff like that, but doing it on a big stage against great competition helped me a lot," Woodbury said. "I have to be able to do that every night now — continue to help us get wins and continue my success and move forward."
During Woodbury's first two seasons, the native of Sioux City, Iowa (East High School), has averaged 5.3 points and 4.4 rebounds per game.
"Woodbury is playing well," UI head coach Fran McCaffery said. "He's strong, he's still running, moving his feet, and being aggressive. He is much more comfortable offensively and you will see a guy that is looked upon to score the ball more than he has ever been."
From his freshman to sophomore seasons, Woodbury improved field goal shooting (48.9 to 51.5 percent), free throw shooting (51 to 71 percent), and scoring average (4.9 to 5.7 points per game). He committed 14 fewer turnovers as a sophomore.
The emergence of 6-10 front-liner Gabriel Olaseni gives McCaffery an option of playing both posts in a game at the same time.
"I think where Woodbury's and Gabe's offense has gotten, it's more likely because you're playing two guys that are capable of scoring double figures," McCaffery said.
Not only is Woodbury more confident in his ability, he said McCaffery has more faith in him as well, leading to a larger role than he has had in the past.
"That means I continue to grow as a player and it shows coach McCaffery has more confidence in me now," Woodbury said. "He continues to believe in me, and I'm going to try to prove him right and do a little more than I did last year."
Practice opened yesterday for the Hawkeyes, and now that Woodbury has more confidence, he is looking to improve on the other C word — consistency. The game before his breakout against Tennessee, Woodbury was held without a point or rebound in 15 minutes against Northwestern in the Big Ten Tournament.
He has scored double figures 10 times in his career and two of those were in his last three games (11 points against Illinois on March 8, 2014). When the NCAA game ended (a 78-65 loss to the Volunteers), Woodbury joined Kevin Boyle as the only Hawkeye with 16-or more points, eight-or more rebounds, and at least one assist in their first NCAA Tournament game.
You won't catch Woodbury chasing a certain number of points or rebounds. Foremost on his radar is boosting the Hawkeyes' victory total. When he was a freshman, Iowa went 25-13 and played in the championship of the National Invitation Tournament. Last season the Hawkeyes were 20-13.
"I want to get a lot of wins," Woodbury said. "We struggled down the stretch last season and we want to finish stronger, win a lot more games, and go into the tournament hotter than we were last year."
Fans will get their first glimpse of the 2014-15 Hawkeyes on Nov. 2 when Northwood University of West Palm Beach, Florida, comes to Carver-Hawkeye Arena for an exhibition. Iowa's nonconference schedule includes 2014 NCAA qualifiers Texas, North Carolina, and Iowa State, with a possible matchup against Syracuse in the 2K Classic in New York City. Five other Big Ten teams made the Big Dance.
"We have the talent, the returners, and a lot of experience coming back," Woodbury said. "We have some new guys that will help and we have the coaching staff that will prepare us well every night."