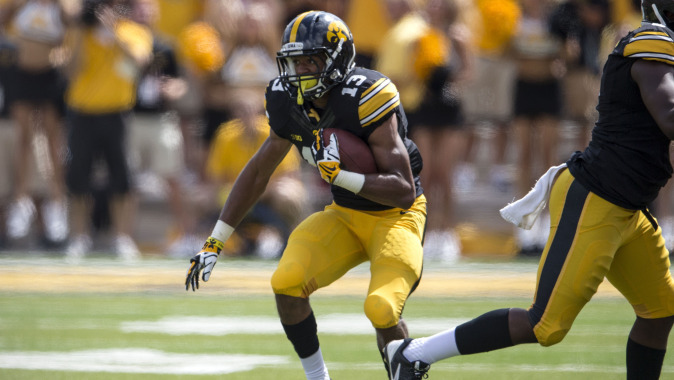 Oct. 9, 2014
Editor's Note: The following first appeared in the University of Iowa's Hawk Talk Daily, an e-newsletter that offers a daily look at the Iowa Hawkeyes, delivered free each morning to thousands of fans of the Hawkeyes worldwide.
By CHRIS BREWER
hawkeyesports.com
IOWA CITY, Iowa — No one knew Greg Mabin the receiver in 2012, and it's likely even fewer people knew Greg Mabin the cornerback in 2013. But after five games in 2014, it is hard not to notice the University of Iowa sophomore.
"I feel surrounded right now," Mabin said Tuesday before practice as television cameras and tape recorders moved in on him like 5-year olds circling a soccer ball.
The newfound attention is both deserved and ironic. Deserved because he leads Iowa with five pass breakups and has one of the Hawkeyes' five interceptions. Ironic because he moved from wide receiver — a position that offers great potential for fame — to cornerback, and an island where people may only see your name if you're chasing a receiver.
It was a move that came with careful consideration, and lingering doubts. Just one year after jumping the line of scrimmage and learning to play defense, Mabin was already contemplating a return to offense prior to the spring of 2014. He said he felt like he was progressing accordingly at cornerback, but the game reps indicated otherwise.
He was only persuaded to give defense a second chance after expressing concerns with his family and coaches.
"My family said just stick it out, even if I didn't feel like I was getting the reps I deserved," said Mabin. "I then talked to (wide receivers) coach (Bobby) Kennedy, and he thought defense would still be better for me in the long run. I trusted the coaches and decided to stick it out."
Mabin said frustration was beginning to mount after two years of being on the sideline. He redshirted as a freshman receiver in 2012, so expectations were low, but he was available for action as a defensive back in 2013.
"I never saw the field," he said. "Not one snap. Not special teams.
"It was frustrating because you put in all the hard work in the weight room, run all the sprints during the summer, basically work our tails off, to get on the field. That's the reason we do that, we're football players, so to do all the hard work and not reap any of the benefits can be frustrating."
Mabin said he was challenged by defensive coordinator Phil Parker before spring ball to take ownership of the position and recommit himself to football. Through five games, the results — 24 tackles, five breakups, one interception, and one fumble recovery — are favorable for a man who before this season had never played a college football game.
"I know I put in a lot of work in the film room, on the field, off the field, trying to better myself, and it's fun to see my hard work pay off," he said.
In his first collegiate game, Mabin intercepted a pass in the final minutes against Northern Iowa. The turnover set up victory formation and preserved a 31-23 Iowa win, but Mabin admits he was looking for more.
"It brought me back to my receiver days," he said. "I know I should have just fallen to the ground, but once the ball was in my hands I turned into a different person."
That different person is starting to have more fun.
"This year has been incredible," he said. "It's everything and more than I ever imagined. I've been dreaming of playing college football since my Pee-Wee days, so it's a blessing to be out there and living the dream."
The Hawkeyes return to action Saturday, hosting Indiana at 11:01 a.m. (CT) inside Kinnick Stadium.