Oct. 10, 2014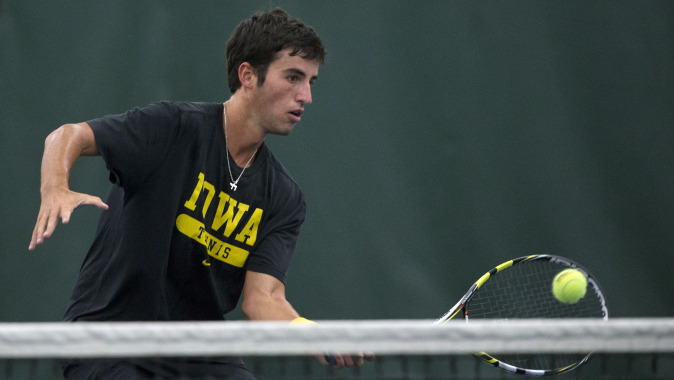 NORMAN, Okla. — The University of Iowa men's tennis team continued action at the ITA Regional Tournament Friday with doubles and singles action. Six Hawkeyes participated including freshman Jake Jacoby, freshman Josh Silverstein, sophomore Nils Hallestrand, junior Dominic Patrick, and seniors Matt Hagan and Andes Estenssoro.
Jacoby looked to build off his strong start in the pre-qualifying singles bracket on Thursday, where he advanced to the third round. Jacoby went head-to-head with Alex Pozo of Southern Illinois (Carbondale) and the freshman was able to keep his momentum going, edging out Pozo in straight sets (6-1, 6-1). The win sends him to the singles main draw.
"Jake Jacoby played another solid match today. It's tough for a freshman to deal with expectations. I feel he has handled it well in this tournament," said interim head coach Ross Wilson.
Jacoby was able to translate his success on the singles court into doubles. The freshman paired up with classmate Silverstein making a run into the Round of 16 in the doubles main draw. Jacoby/Silverstein's first round match was against Bates/Sosnowski of Oral Roberts, with the Hawkeyes taking care of business gaining the victory (8-4). Their next match pitted them against Haertel/Adams of Western Illinois; managing to keep the momentum going with an 8-3 win. The triumph against Haertel/Adams advanced them into the quarterfinals where they took on the No. 2 seed Hamburg/Froment of Minnesota, Jacoby/Silverstein were not able to get the win (8-5). Jacoby and Silverstein are the first team for Iowa to reach the round of 16 competition at the ITA regional since 2010, where Will Vasos and Austen Kauss advanced to the Round of 16.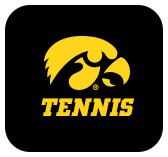 "Josh and Jake competed well all day with good energy and great teamwork. Their games complement each other well and they played great against the number two seed," added Wilson. "This was great learning experience for them. They are going to win a lot of matches for the Hawkeyes in the future."
In more doubles action, the team of Hallestrand and Estenssoro faced Santamaris/Capdequi of Oral Roberts in the first round of the doubles main draw. Hallestrand/Estenssoro grabbed the victory (8-4). That set them up with a second-round match against Munoz/Terrell of Arkansas in which they fell (8-3).
Elsewhere in the doubles action, the team consisting of Hagan and Patrick took to the courts facing de Vilchez/DeVilliers of Wichita State. They were not able to get the win falling in a close match (8-7(6)).
"Matt and Dominic had a tough match today. They got off to a slow start but battled back and found themselves serving in the tiebreaker up match point. They know those are matches we have to win to be successful," said Wilson. "I fully expect them to bounce back in singles play on Saturday."
Competition resumes on Saturday with singles and doubles matches throughout the day at the Headington Family Tennis Center.
ITA REGIONAL TOURNAMENT
Friday's results
Pre-qualifying first round singles
Jake Jacoby (UI) def. Alex Pozo (SIUC): 6-1, 6-1
Doubles main draw
First round
Jacoby/Silverstein (UI) def. Bates/Sosnowski (ORU): 8-4
Hallestrand/Estenssoro (UI) def. Santamaria/Capdequi (ORU): 8-4
de Vilchez/DeVilliers (WSU) def. Hagan/Patrick (UI): 8-7 (6)
Second round
Jacoby/Silverstein (UI) def. Haertel/Adams (WIU): 8-3
Munoz/Terrell (ARK) def. Hallestrand/Estenssoro (UI): 8-3
Round of 16
Hamburg/Froment (MINN) def. Jacoby/Silverstein (UI): 8-5