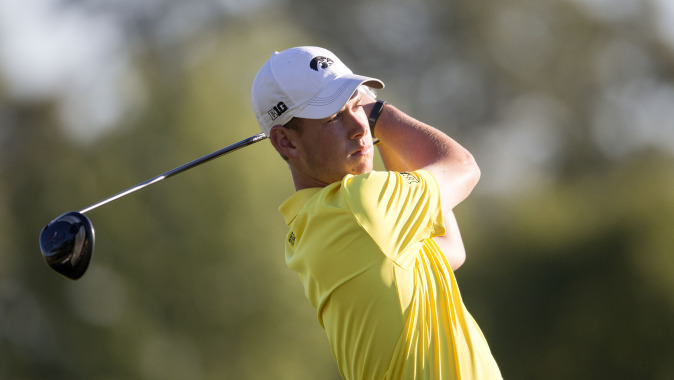 Oct. 11, 2014
DURHAM, N.C. — The University of Iowa men's golf team is tied for 9th place after day one of competition at the fifth annual Rod Myers Invitational at the Duke University Golf Club. North Carolina leads the 12-team field with a team total of 278 (-10).
Sophomore Raymond Knoll led the way for the Hawkeyes and is currently in a tie for 14th place after scoring a one-over-par 71, trailing North Carolina's Ben Griffin, the tournament leader, by four strokes. Sophomore Carson Schaake carded a 72 (E) in the first round to put him in a nine-way tie for 19th place.
Senior Brian Bullington and junior Nate Yankovich each recorded a first round total of 76 (+4) to put them in a tie for 50th place.
Freshman Jack Holmgren, a native of Corcoran, Minnesota, made his first collegiate appearance on Saturday, shooting an 81 (+9), which puts him in a tie for 67th place.
Second round play at the 2014 Rod Myers Invitational was officially suspended due to extensive lightning activity in the area. The Hawkeyes will return to the course to complete second round action tomorrow morning at 8 a.m. (CT). The tournament will be shortened to a 36-hole event with additional weather conditions anticipated to affect tomorrow's play as well.?