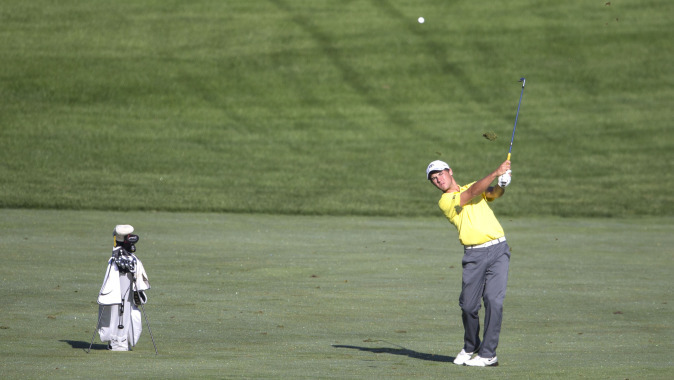 Oct. 12, 2014
Roy Myers Invite — Final Results

DURHAM, N.C. — After posting a team total of 297 (+9) on the final day of action at the fifth annual Rod Myers Invitational held at the Duke University Golf Club, the University of Iowa men's golf team jumped two spots to finish in a tie for seventh place with Michigan State. The Hawkeyes recorded a 36-hole team total of 592 (+16).
The 2014 Rod Myers Invitational was shortened to a 36-hole event due to extreme weather conditions.
Sophomores Raymond Knoll and Carson Schaake were both consistent throughout the two-day tournament. Each posted final totals of 144 (E) to finish in a tie for 13th place on the individual leaderboard. After posting a one-under-par 71 on day one, Knoll fired a 73 (+1) on Sunday. Schaake fired his second-straight round of 72 (E) to move up six spots in the final standings.
"Carson and Raymond played solid, especially today in tough conditions," said UI head coach Tyler Stith
Senior Brian Bullington finished in a tie for 38th place. The Frankfort, Illinois, native carded rounds of 76 (+4) and 74 (+2).
Junior Nate Yankovich recorded a first round total of 76 (+4) before shooting a 78 (+6) on Sunday. Yankovich finished in a four-way tie for 54th place.
Freshman Jack Holmgren completed his first tournament as a Hawkeye on Sunday, finishing in a tie for 67th place. Holmgren totaled a 160 (+16), firing an 81 (+9) in the first round and a 79 (+7) in the second.
"We put ourselves in a tough condition after round one," said Stith. "Today we fought hard, but ran out of holes and opportunities."
East Carolina won the tournament with a team score of 561 (-18), finishing ahead of second place North Carolina 568 (-8) and third place Baylor (570 (-6).
The Hawkeyes are back in action next weekend when they head to Atlanta to compete in the U.S. Collegiate Championship. The three-day event begins on Oct. 17 and is hosted by Georgia Tech University.