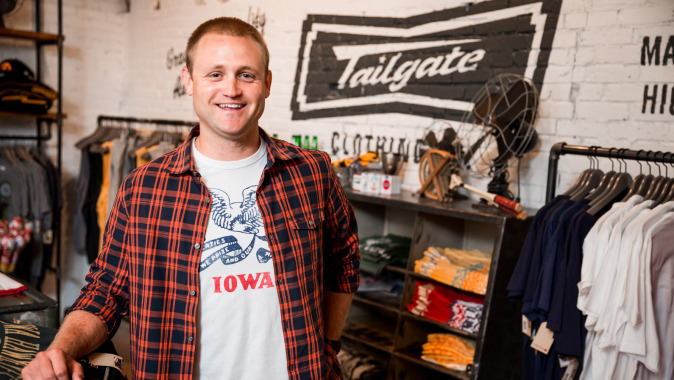 Oct. 14, 2014
Editor's Note: The following was written by Adam Moore and first appeared in the magazine, Entrepreneur: 101, an annual publication of the Corridor Business Journal. It is reprinted here with the permission of CBJ.
IOWA CITY, Iowa — As an All-American kicker with the Iowa Hawkeyes and a Pro Bowl kicker with the San Diego Chargers, Nate Kaeding is used to a little competition. The only thing that has changed as of late is the venue.
Kaeding, who played nine seasons in the NFL, has returned to his hometown to trade in the cleats for the checkbook, becoming one of downtown Iowa City's most inventive and visible entrepreneurs over the past six years.

He is one of three co-owners of Short's Burgers & Shine, a small restaurant on Clinton Street offering up local food and beers, and is one of the people responsible for helping Tailgate Clothing, a vintage clothing brand run by ISU alum Todd Snyder, open its first brick-and-mortar store just down the block in July. Mr. Kaeding also hinted at his involvement with a "reimagined diner" in downtown Iowa City, set to open sometime this fall, and has done some private equity investing with other Corridor businesses like Involta.
For Mr. Kaeding, starting new businesses has provided an opportunity to continue competing, but also to escape the "athlete" tag that has hung around him since high school.
"I never put myself in that box of `he's just an athlete' or `he's just a kicker,' how everybody else tends to view you that way," Mr. Kaeding said. "This was kind of an inner challenge for me to prove to everybody else that I can provide more value than just kicking a football through some uprights."
Kaeding recently joined the Iowa Farm Bureau's "ANF Team," a group of former Hawkeyes helping to promote America Needs Farmers. You can read about that

HERE

.
Indeed, since he first invested in Short's six years ago, Mr. Kaeding has become adept at leveraging his connections and capital reserves to help Iowa City develop what author Richard Florida calls "street-level culture" – the lifestyle and cultural activities that draw in young professionals and convince them to stay.
"For me, personally, two-thirds of my (investments) are more conservative, but I also wanted to have some money where I could go help create a space or a business," Mr. Kaeding said. "That's really the draw for me, being able to help shape the fabric of downtown."
Mr. Kaeding, who received his bachelor's degree in history, was determined to avoid the mistakes of the many pro athletes-turned-business owners who came before him. A primary lesson came in the form of fellow superstars who thought they could do it all.
"There are a lot of stories (in the NFL) about people not doing the right things," he recalled as he discussed his earliest days in the NFL. "Some guys, just because they can run fast or throw a football, they think they can do anything. At the very least, if I can just understand that I'm not that way and try to align myself with the right people, so that their strengths fit my weaknesses, that has been and will continue to be a guiding principle for me in business."
The partnerships Mr. Kaeding has formed since returning to Iowa have so far proven to be excellent picks. He partnered with Dan Ouverson, the owner of the Mill Restaurant and former owner of Baldy's (which was converted into Short's), and Kevin Perez, the founder of nearby One Twenty Six restaurant and the current owner of Banditos.
With a combined 40 years of restaurant experience between them, Messrs. Ouverson and Perez handled the day-to-day operations of the business while Mr. Kaeding worked on the marketing and positioning. It was an arrangement that played to Mr. Kaeding's strengths.
"A big takeaway for me from sports is you're only as good as your next kick. If you start resting on your laurels and getting complacent, then you're going to get washed out to sea pretty quick."

Nate Kaeding
"I didn't know the first thing about managing a front-of-house staff in a restaurant or the back end of the business side of it, but I did know I could help a little bit with that product-market fit, and giving the consumer's perspective on some of the marketing side," Mr. Kaeding said.
The story was much the same as he partnered with Mr. Snyder earlier this year to bring Tailgate Clothing to downtown Iowa City. Mr. Snyder, whose design pedigree includes stints with J. Crew and Ralph Lauren Polo, knew the business but needed help finding the right location for the brand's first storefront. Mr. Kaeding helped scout the location and handled local market research, all as part of a role he describes as a "facilitator."
"They wanted to get it done, but they really needed someone to help them navigate the waters early," he said. "It's what I enjoy -finding ways to connect the brand with Iowa sports and the arts and culture scene here (in Iowa City)."
In between business ventures, Mr. Kaeding is staying busy working on an MBA from UI's Tippie College of Business in what he says is a "purposeful transition period" in his life. He doesn't know whether the future will hold more entrepreneurial endeavors or a new profession entirely, but one thing is for certain: he's not slowing down any time soon.
"A big takeaway for me from sports is you're only as good as your next kick," he said. "If you start resting on your laurels and getting complacent, then you're going to get washed out to sea pretty quick."