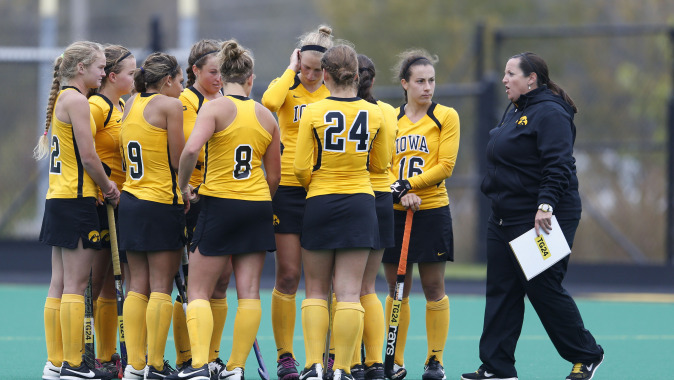 October 15, 2014
Complete Notes

THIS WEEK
The 12th-ranked University of Iowa field hockey team (9-4, 2-2 Big Ten) hits the road this weekend squaring off with Michigan State (7-6, 2-3 Big Ten) on Friday at 2 p.m. (CT), and Ohio State (5-8, 0-4 Big Ten) on Sunday at 11 a.m. (CT).
Scouting Michigan State
The Spartans are led by fourth-year head coach Helen Knull who has the Green and White off to a 7-6 start with a 2-3 mark in Big Ten play. MSU senior Abby Barker paces the Spartan offense with 34 points on 12 goals and 10 assists. Defensively, MSU sophomore Sierra Patton (7-5) has started all 13 games as goalkeeper. Patton has collected 87 saves and surrendered 31 goals.
Scouting Ohio State
Head coach Anne Wilkinson enters her 19th season at the helm of the Ohio State field hockey program. Wilkinson has the Buckeyes off to a 5-8 start to the season with an 0-4 record in Big Ten play. OSU freshmen Maddy Humphrey leads the Scarlet and Grey offense with 30 points on 11 goals and eight assists. Defensively, OSU freshmen Liz Tamburro (4-8) has started all 13 games for the Buckeyes collecting 90 saves while surrendering 39 goals.
We Meet Again
The Hawkeyes have history with both Big Ten opponents this weekend. Iowa scored a 3-1 victory on the road over the Buckeyes on Oct. 18, and fell to Michigan State, 3-2, on Nov. 10 in the Big Ten Championship game in Columbus, Ohio.
All-Time Series
The Hawkeyes hold the edge in the all-time series against both opponents this week. Iowa posts a 48-13-1 all-time mark against Michigan State, and a 48-13 all-time record against Ohio State.
In the Rankings
The University of Iowa ranks 12th in the 2014 Penn Monto/National Field Hockey Coaches Association (NFHCA) Division I Poll. The Hawkeyes garnered 342 points in the rankings. Iowa has been ranked each week (40 weeks) in the poll dating back to Sept. 6, 2011. Iowa is one of six Big Ten Conference schools in the rankings along with Maryland (second), Penn State (fifth), Northwestern (ninth), Michigan (14th), and Indiana (18th).
Iowa Sits No. 15 in RPI Rankings
The Rating Percentage Index, commonly known as the RPI, is a quantity used to rank teams based upon a team's wins and losses and its strength of schedule. Released Oct. 14th, the Hawkeyes landed a No. 15 national ranking.
Hawkeyes in the National Rankings
Natalie Cafone — the reigning 2013 national points leader — ranks fourth nationally, and leads the Big Ten in goals per game (1.23). UI sophomore Stephanie Norlander ranks tied for fifth (1.00). The Hawkeyes also rank ninth nationally in team goals per game (3.43).
Looking Ahead
Iowa returns to Grant Field next Saturday for the Hawkeyes final regular season home game against Penn State. UI seniors will be recognized prior the start of the match.
Iowa at Grant Field
The Hawkeyes own an overall home record of 144-48, a conference record of 61-27 at home, and an 11-2 record in NCAA Tournament games played in Iowa City.
Chasing History
Junior Natalie Cafone enters the weekend with 46 career goals — two away from emerging into the program's top-10 list. Cafone sits behind her former high school coach Diane DeMiro. DeMiro — a 1996 UI graduate — recorded 48 goals in her time at Iowa.
Hat Tricks
Three Hawkeyes — Natalie Cafone, Dani Hemeon and Stephanie Norlander — have scored hat tricks in the 2014 season. Junior Natalie Cafone's came against No. 6 Virginia on Sept. 4, in a 4-3 win at home. Sophomore Stephanie Norlander registered her first one in the opening 12 minutes in the win over Missouri State on Sept. 28 in Iowa City. Norlander and Hemeon both achieved the scoring accomplishment on Oct. 3rd against Ball State. The last time two Hawkeyes scored a hat trick in the same game came against Saint Louis on Sept. 19, 2009 when Jess Werley and Dean Tricia each scored a trio of goals in Iowa's 12-0 win over the Billikens.
Cafone Named B1g Player of the Week
Junior Natalie Cafone was named Big Ten Offensive Player of the Week on Sept. 9. Cafone paced Iowa's offensive attack with three goals on five shots in a 4-3 win over No. 6 Virginia in Iowa's home opener on Sept. 4. This marked Cafone's second Big Ten Player of the Week honor (Sept. 24, 2013).
Norlander Named B1G Player of the Week
University of Iowa sophomore Stephanie Norlander was named Big Ten Offensive Player of the Week on Sept. 30. Norlander paced Iowa's offensive attack with a combined five goals on 12 shots over two games, which included a hat trick in the opening 12 minutes against Missouri State.
All-Americans
Natalie Cafone and Dani Hemeon were named 2013 Longstreth/NFHCA Division I All-Americans. Cafone was named to the second team, while Hemeon garnered third team honors. Cafone and Hemeon are the 84th and 85th national All-Americans in program history. Only four programs nationally have had more.
Cafone Steps Up
Junior Natalie Cafone was named the University of Iowa's 2014 Female Athlete of the Year. The Fairfield, N.J., native was the NCAA statistical champion for points per game in 2013, leading the nation in points per game (2.48) the first Hawkeye to lead nation in points per game since Kristy Gleason in 1992 (3.95). Cafone was named to the NFHCA Division I All-America second team, NFHCA West Region All-America first team, All-Big Ten first team and the All-Big Ten tournament team. Cafone has scored 38 goals over her last 34 games.
Iowa Newcomers
The Black and Gold feature 10 freshmen on the 2014 roster. Taylor Omweg and Veronique Declercq both see action in the backfield. Torie Berkel, JoElla Guagliardo and Mallory Lefkowitz are contributing to the Hawkeye forward line. Pommeline Kortanje, Emily George, Mackenzie Sapp and Melissa Progar each add to the midfielder's depth. Freshman goalkeeper Katie Jones rounds out the Hawkeye newcomers.
Roster Breakdown
21 student-athletes on the UI field hockey roster:
– 10 freshmen
– Five sophomores
– Three juniors
– Three seniors
Four members of the Iowa roster were also teammates in high school. Sophie Plasteras and Stephanie Norlander played alongside one another at Handsworth Secondary in North Vancouver, Canada, while Taylor Omweg and Melissa Progar competed for Tabb High School in Yorktown, Va.
Hawkeyes in the NCAA Tournament
The Hawkeyes have been selected to the NCAA Tournament 22 times in program history — the most of any school as a member of the Big Ten Conference. The Hawkeyes are 26-23 all-time in tournament play, including 9-5 in first round match-ups and 11-6 in second round contests. Iowa has advanced to 11 NCAA Final Fours, winning the 1986 national championship. The Hawkeyes 26 tournament victories and 11 NCAA Final Fours are the most of any school as a member of the Big Ten Conference.
Hawkeyes Selected to U.S. National Team
Junior Natalie Cafone and former UI All-American Lauren Pfeiffer were selected to the 2014-15 U.S. Women's National Team. Pfeiffer, a member of the U.S. National Team since 2009 who has earned 66 caps, was a two time All-American at Iowa. During her career, Pfeiffer earned all-region honors three times, first-team All-Big Ten honors twice, and was named the Big Ten Tournament MVP twice.
National Academic Honors
The University of Iowa field hockey team was awarded the 2013 Gladiator SGI/NFHCA Division I National Academic Team Award. The National Academic Team Award recognizes those institutions that have achieved a team GPA of 3.0 or higher during the first semester of the 2013-14 academic year. Brynn Gitt and Jessy Silfer were named 2013 Gladiator SGI/NFHCA Division I Scholars of Distinction. The honor is awarded to student-athletes who achieved a cumulative GPA of 3.90 or higher through the first semester of the 2013-14 academic year.
Follow the Hawkeyes
Become fans of the official Iowa Field Hockey fan page by going to facebook.com/iowafieldhockey to follow the Hawkeyes on Facebook. Fans can also follow on Twitter: @iowafieldhockey