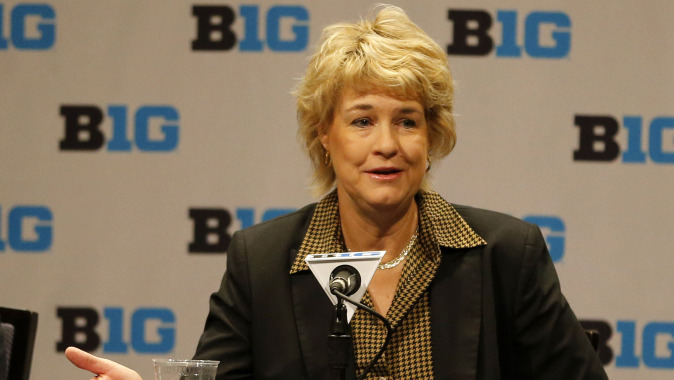 Oct. 16, 2014
Big Ten Media Day Photo Gallery

COACH BLUDER: By now you've probably heard most everything this morning. But going into this season I think we have a lot of reasons to be optimistic with the group we have returning four starters returning to the lineup, including Sam Logic who today was named to the preseason team, very excited about her. But for Sam, it's not about being on the preseason team, it's about competing and winning, and that's what we're excited to start this season and get this rolling.
Q. You mentioned Sam. Can you maybe talk about the role she's played in your program not only on the floor but being able to sell your program to future classes and how that's worked?
COACH BLUDER: I've been around Sam for three years now and she continues to amaze me at what she does. There's the basketball aspect, like you say. I think she's one of the most complete point guards out there in that she leads our team in assists and rebounds and steals. Those are amazing statistics. She's one of the leading passers returning in the country. And Sam has such a great is a great leader that raises the level of everybody else's confidence on the team. To me that's the sign of a great leader, when you can make other people better. That's what Sam Logic does for us. She makes everybody around her better, including her coaches. Because of what she can do on the floor. Then there's the recruiting aspect. The kid bleeds black and gold. We know she's from Wisconsin, but make no bones about it, she's a Hawkeye. She'll be a Hawkeye for life. She loves promoting and talking about the hawks and loves recruiting for the Hawks. She's been the best well rounded ambassador that we could ever ask for.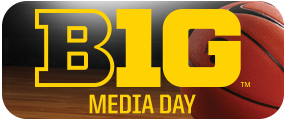 Q. Fifteen years you're the dean of coaches in the Big Ten. Can you just compare the Big Ten, your first year with this year?
COACH BLUDER: Eleven to 14. You know, it's amazing how far our league has come. In so many different ways the Big Ten Network, the quality of coaches in this league, the quality of players. And to think of where we are now. It used to be back then there was always a couple of gimmes in the league there's no such thing in our league. Every game is a tough game. The environments have gotten better where we go to play, the fan support has gotten better. So every year this league has continued to grow and get better.
Q. Lisa, last year you had a terrific season. How is that parlayed into your recruiting, obviously can't talk about recruits for another couple of weeks, but it's fairly highly touted anyway. Do you feel you got a lot of momentum from last year into the recruiting and what do you think of your prospects right now?
COACH BLUDER: I think we have great momentum right now. Our program is definitely in the right direction. We had a very good season last year playing in the Big Ten championship game, winning 27 games. And I think that momentum has carried into the recruiting aspect of it. I think players like what they see but I also think they like our style of play. And I think we need to thank the Big Ten Network for that, because before people weren't able to always see the Iowa Hawkeyes play. And now they can. It's readily available for them. And it has helped us promote our program. It's helped us tell the story about our program. It's helped recruits be able to tune in and see our style of play and think, you know, I could see myself in that type of atmosphere, in that type of game plan.
Q. Last year I think Theairra Taylor had one of the more exceptional seasons that I didn't see coming, and she was an amazing player. Who do you see replacing her in terms of some of those leadership things and who needs to step up as much as Taylor did last year for you for you to be successful this year?
COACH BLUDER: We have four starters returning. That's the one we lost, Theairra, she's over in Prague playing now. Who is going to replace her? You know, there's a number of candidates of people that could come in and replace her on our team. And obviously I don't want to go into those now because they're still competing for that opportunity. But it's not always one person that replaces that leadership. And I think we have great leadership with our group right now. I think our captains this year are Sam Logic, Melissa Dixon and Kathryn Reynolds, another center. And I think Bethany Doolittle as a senior also provides great leadership. I'm not worried about the leadership of our team because I think we're in really good hands with that despite losing Theairra.
Q. You can flat out score with anybody in the country. So when you look at the fact that you're bringing back the majority of that scoring power, what's that one area of focus that you think you can improve upon that's actually going to take you to that next level? Is it an improvement in defense, rebounding, what is that specific thing that you know you have to work on?
COACH BLUDER: Well, you've seen our team play. You said them. We need to improve on rebounding, definitely. That's a statistic that really it always irks me quite honestly because it's the first drill I do in practice because I believe in it so much. It's opportunities to score when you control the rebounds. And we've given away too many of those opportunities in the past and we need to do a better job on the boards.