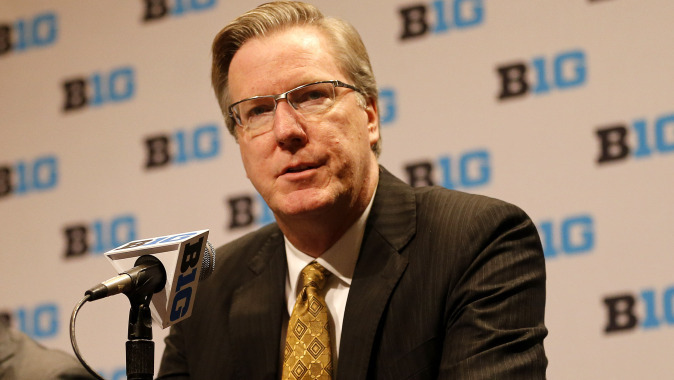 Oct. 16, 2014
Fran McCaffery: I think what you just said kind of summarizes our outlook. Seven upperclassmen, all of whom got major minutes last year, ten returning lettermen. I feel really good about the options that we have. I thought one of the strengths of our team last year was our depth. I feel the same about this year's team. That's why I think right now we're optimistic.
Q. How is your son doing?
Fran McCaffery: Thank you. He's doing very well. It's obviously been an interesting journey, difficult at times. The outpouring of support has been absolutely phenomenal. I would say getting closer to being back to as normal as he can possibly be in light of what he went through. But I think in situations like this, we were very fortunate when we found it. I think that's the critical thing no matter what age you are. So we feel blessed. His treatment is going well, and we're looking forward. Thank you.
Q. What are your expectations out of Woodbury this season?
Fran McCaffery: Well, I think with Adam, he's in I would say the best shape of his life physically, and I think that's really going to help him. He's strong but lean and fit. His intensity level in practice has been incredibly impressive in terms of competing on every possession, and I think that's one of his great qualities. He's been one of the best low post defenders in our league, and he's been an excellent rebounder, outlet passer. We've utilized him on offense as a passer. He's been tremendous. I think you're going to see him score the ball a little bit more. He's much more comfortable.
He's worked on a variety of things, whether it be post moves or face-up jump shots. I think you're going to see him be more aggressive in that area. We're going to go to him a little bit more. But I think when you see a guy go from his sophomore to junior year, I think we all expect him to take another step, and I think he expects it from himself.
Q. During your career, I wonder if you have had teams that have had a lot of seniors and a lot of freshmen and not a lot in between. What are the dynamics of getting a roster such as that to blend and mold and have success?
Fran McCaffery: Well, I think the first key is if you have seniors, how are they mentoring those freshmen? If you have freshmen, what are their expectations of themselves? Are they trying to fit in? Are they fully expecting to compete for minutes and sort of have that expectation for themselves? What you want to see is a healthy competition. The young guys going after the old guys, the old guys respecting that and helping, ultimately, the team become the best it can possibly be, so that at some point during the season, you don't have inexperience. You have kind of one team that plays the right way.
Q. You had Gabe Olaseni play a little bit at the 4 or 1 and 2. How is his development coming along at that position in practice, and do you expect him to continue to play that as you get into the season?
Fran McCaffery: You know, I think he's going to have to. When you look at who we have, obviously you've got Adam Woodbury, Jarrod Uthoff, Aaron White, Gabe Olaseni. That's your four top post players, but then also Jarrod and Aaron will play the 3, as well. So Aaron White is going to play a lot. Gabe Olaseni is going to play a lot, but will they play together a lot? We'll see. He's really good running the 5 man, but his jump shot has improved I think to the point where if you play him facing the basket on the baseline at the free-throw line and you throw him the ball and you don't respect him, he can make that shot. He's a much better passer than he was saying when he was a freshman, so you have Woodbury and Olaseni in there together, they're both capable passers, willing passers, and they can both run. I think a lot of times when you have a running team, you're hesitant to go with the twin towers because they slow you down. I don't think by playing those two guys together we'll be slowed down. You know, don't be surprised if you see that, and I think another factor will be how does Dominic Uhl develop and figure into that mix. So the quicker he becomes accustomed to what we're doing and the more he plays, maybe the less opportunity that they would play together, and if not, then they would play more.
Q. Last season Devyn Marble shot 191 more times than his next closest teammate. How are you going to replace his leadership and talent but also the sheer volume of shots that he took?
Fran McCaffery: Well, the leadership and talent, obviously it shifts to Aaron White. It's Aaron White's team. But again, he's got two other seniors and four juniors all of whom played a lot, and they're all good people and they're all good players. The other part of it I think is harder to replace because we relied on him so much, not only in terms of those shots you talked about but also as a point guard at times, we posted him up, we used him in a lot of ways. Somebody else is going to have to step up and score those points and take those shots. We have a number of candidates, Josh Oglesby and Peter Jok in particular at that position, but I think you'll see a different Mike Gesell and I think you're going to see a completely different Jarrod Uthoff in particular. All of those guys are gifted offensive players, and I think that's where it'll come from.