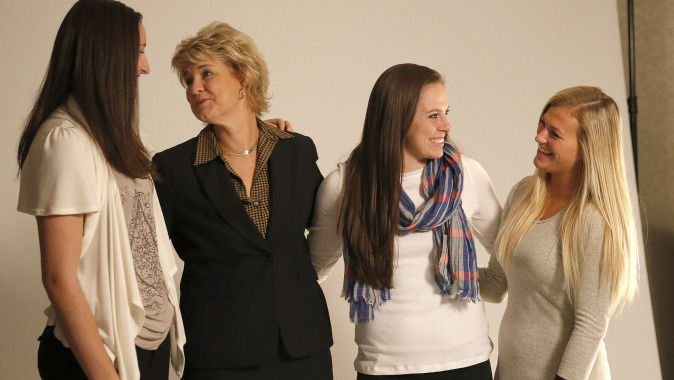 Oct. 16, 2014
B1G Basketball Media Day: Oct. 16

By DARREN MILLER
hawkeyesports.com
CHICAGO — Pick your poison, opponents.
Nine times during the 2013-14 University of Iowa women's basketball season, senior Samantha Logic was leading scorer. On eight occasions, the top scorer for the Hawkeyes was either sophomore Ally Disterhoft or senior Melisssa Dixon. Senior Bethany Doolittle had a team-high in points six times.
"All five starters could be in double digits and that is hard to guard a team that has a threat at every position," Doolittle said Thursday at Big Ten Basketball Media Day in Hyatt Regency O'Hare. "One of our biggest strong suits is that everyone on the floor can be a threat at any position."
Pick your poison, opponents.
More names are added to the mix when it comes to rebounding. Disterhoft was the Hawkeyes' leading rebounder 16 times, followed by Logic (13), junior Kalli Peschel (four), Doolittle (three), and junior Claire Till (two).
"There are so many different threats on our team that you can't take away one person that night," Dixon said.
Iowa finished 27-9 last season and returns 10 letterwinners and four starters from a team that made its seventh consecutive NCAA tournament. Big Ten coaches pick the Hawkeyes to finish third in the conference this season behind Maryland and Michigan State.
"They're very different personalities and it all meshes together," UI head coach Lisa Bluder said. "I love that we're balanced. That balance is one of the things that is special about our basketball team. You can't key on one person. You can't count on one person having an off night or getting one person in foul trouble because it doesn't matter."
Pick your poison, opponents.
The four returning Iowa starters averaged between 14.2 and 13.1 points per game last season. Doolittle was tops at 14.2, followed by Logic (13.3), Disterhoft (13.2), and Dixon (13.1). Doolittle is Ms. Inside, shooting 55.3 percent from the field. Dixon is Ms. Outside, making 97 3-point field goals. Logic, a first-team All-Big Ten and honorable mention All-America selection, averaged 7.5 assists, 6.6 rebounds, and 2.4 steals per game.
"Melissa has the 3s, Sam has the assists and can score whenever she wants, the inside-out game is strong for us, too," Doolittle said. "That reflects how close we are as a team, because nobody has the mindset that it is about me. It is about the team."
As close as these Hawkeye players are in the scoring and rebounding column, they are even closer in the locker room and outside Carver-Hawkeye Arena. Bluder enters her 31st season as a head coach and she has never seen a group as tight-knit.
"They get along so well and they are so balanced," Bluder said. "It doesn't mean they are identical, they're not."
Pick your poison, opponents.
Dixon, Doolittle, Logic and Kathryn Reynolds are seniors. Because of the veterans, the team has been off to a head start during preseason practices. As Bluder points out, these are not typical seniors when it comes to playing time. Logic has played in and started 101 games, Doolittle has played 101 games and started 70 times, and Dixon has played in 94 games with 47 starts. In two seasons, Reynolds has played in 41 games.
"They are like fifth-years, they have that much experience," Bluder said. "It helps because they know what to expect, they know how to set the tone and level of practice, and that helps the freshmen understand."
The four-member Hawkeye freshman class includes Christina Buttenham, Chase Coley, Whitney Jennings, and Carly Mohns. They would be wise to follow the lead established by the senior class that has won 19, 21, and 27 games a season during their careers.
"This is a whole new level of true genuine love of playing and playing for each other," Logic said. "We love going into battle with each other and for each other. We love winning together. We're genuinely happy when someone else plays well. Even if you don't play well, it's OK as long as we win, and you're happy for the ones that helped you pull through."
Pick your poison, opponents.