Box Score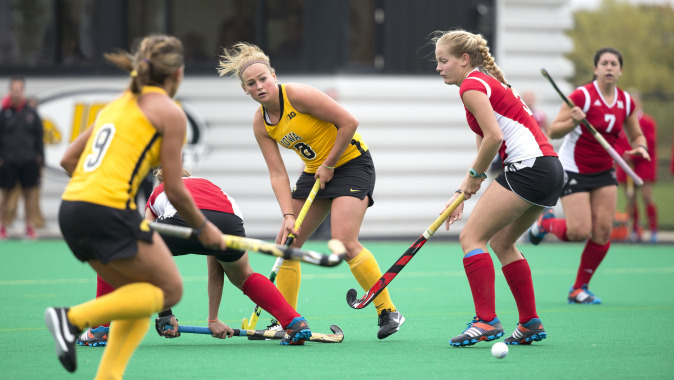 October 19, 2014
COLUMBUS, Ohio — The 12th-ranked University of Iowa field hockey team (10-5, 3-3) earned a 4-2 win over Ohio State (6-9, 1-5) on Sunday at Buckeye Varsity Field in Columbus, Ohio.
"We played a solid game today and were able to get some early goals on the board which gave us great confidence," said UI head coach Lisa Cellucci. "We had a much greater defensive presence and that really helped generate our attack."
The Hawkeye offense erupted early giving the Black and Gold a 2-0 edge in the opening three minutes. Stephanie Norlander was the first to strike — scoring her 14th goal of the season at the 1:58 mark to put Iowa on top, 1-0. Chandler Ackers extended the lead, 2-0, in the third minute netting the first goal of her career. Dani Hemeon registered the assist.
Iowa entered the half leading Ohio State in both shots (8-4) and corners (4-1) with a 2-0 lead.
The Hawkeye defense shined early in the second period keeping the Buckeyes off the scoreboard. With just over 10 minutes to go in the second period, Iowa recorded a pair of goals in a two-minute span.
Natalie Cafone was the first to strike, registering a goal in the 58th minute to stretch the Hawkeye lead, 3-0. The Fairfield, New Jersey, native's goal marked the 47th of her career — putting her one away from emerging into the program's all-time top-10 goals list.
Mallory Lefkowitz capped the Hawkeye scoring at the 62:00 minute mark putting Iowa on top, 4-0, netting her third goal on the season.
The Buckeyes made a late push in the final two minutes netting a pair of goals but were unable to complete the comeback.
Sophomore Alexandra Pecora (9-5) played all 70 minutes and was credited with the win. The Marlton, New Jersey, native collected three saves.
The Hawkeyes return to action Oct. 25 hosting No. 5 Penn State at 1 p.m. (CT) at Grant Field for Senior Day.
GAME SUMMARY
#12 Iowa (10-5, 3-3)
2
2
4
Ohio State(6-9, 1-5)
0
2
2
SCORING
Iowa
Stephanie Norlander
1:55/1st