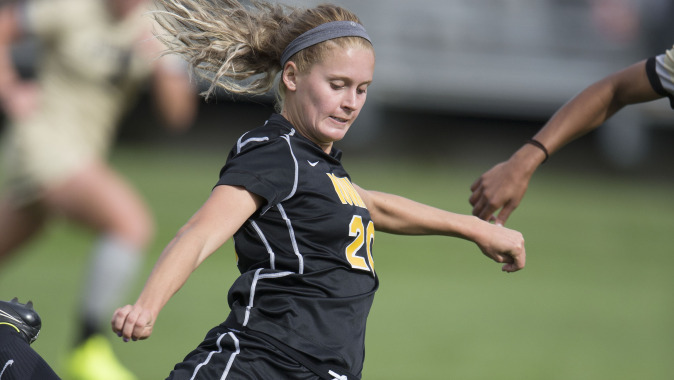 Oct. 20, 2014
IOWA CITY, Iowa — University of Iowa senior Cloe Lacasse has been named the Big Ten Offensive Player of the Week, it was announced Monday by the league office. The honor is the second of Lacasse's career.
The Sudbury, Ontario, native earned the accolade after scoring two goals and tallying a pair of assists in leading the Hawkeyes to a 2-0 weekend with victories over Indiana and Purdue. The forward assisted on the game-winning strike in a Senior Night triumph over the Hoosiers before scoring twice and assisting on the game-winner in a 3-1 win over Purdue.
The two-goal performance was the fourth for Lacasse this season and the 11th such game of her career. The goals were also the 39th and 40th of her career. Lacasse is leading the Hawkeyes with nine goals and six assists for 24 points this season. She also has a team-high 70 shots (30 on goal).
Lacasse is the first Hawkeye to earn Big Ten Offensive Player of the Week honors in 2014 and the second Iowa player to earn a Big Ten nod this season. Junior goalkeeper Hannah Clark was named Big Ten Defensive Player of the Week on Sept. 23.
Lacasse was previously honored as the Big Ten Player of the Week on Nov. 4, 2013. She was twice honored as the Big Ten Freshman of the Week in 2011.
The Hawkeyes (11-4-1, 6-3-1) play their final three regular season games on the road, beginning with a 6 p.m. (CT) match at Ohio State on Friday in Columbus, Ohio.