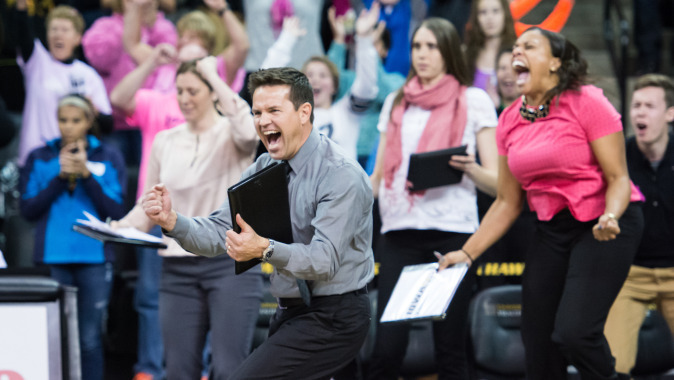 Oct. 22, 2014
Editor's Note: The following first appeared in the University of Iowa's Hawk Talk Daily, an e-newsletter that offers a daily look at the Iowa Hawkeyes, delivered free each morning to thousands of fans of the Hawkeyes worldwide.
By JIL PRICE
hawkeyesports.com
IOWA CITY, Iowa — After securing its first Big Ten victory of the 2014 season with a 3-2 win over Northwestern on Mediacom Court in Carver-Hawkeye Arena on Oct. 18, the University of Iowa volleyball team is riding high.
It was Iowa's first win over the Wildcats since Oct. 23, 2009, the team's first win of the season at home, and first-year head coach Bond Shymansky and his staff's first Big Ten victory in their tenure. That first-win feeling has hooked the Hawkeyes and the program is hungry for more.
"It's good to get that monkey off our backs," Shymansky said. "It was the first win for us at Carver-Hawkeye Arena and the first win for us in the Big Ten. The crowds have been unbelievable, and we're so excited about that. We feel this is the tip of the iceberg for our program, and now people know they can come watch some exciting, top-level volleyball, and watch us win."
Three Hawkeye hitters keyed the victory over the Wildcats. Sophomore Lauren Brobst (season-high 20 kills), freshman Jess Janota (career-high 16 kills), and senior Alessandra Dietz (11) all contributed double-digit kill efforts to win the five-set battle. The trio echoed Shymansky's excitement following the match.
"It's one of the best feelings you can have, and that's why I play this game," Dietz said. "Since coach Shymansky got here, we've been working hard and seeing changes every day. To see it come together and get that first Big Ten win is great."
"It was a great feeling," Brobst said. "We want to keep pushing forward. This is not going to be our last win."
Iowa — a team that owns a 9-10 overall and 1-7 Big Ten record — has 12 conference matches remaining in the 2014 season. Six matches are against teams ranked in the Oct. 20 American Volleyball Coaches Association (AVCA) poll. The challenging schedule isn't deflating the Hawkeyes; instead they are up for the challenge.
"All the right pieces are clicking and there is a lot of good competition in the Big Ten, but we're ready for it," Dietz said. "We're going to keep plugging away and get after it."
"We've triggered that belief in our group that we can beat anybody in league play," Shymansky said. "We can take on anybody in the conference, and we can get W's against anybody in Big Ten play. This is the first of many."
The Hawkeyes continue Big Ten action on the road for the next two weeks. The road trip begins tonight with a 7 p.m. (CT) match at No. 5 Wisconsin, followed by a Saturday match at No. 25 Minnesota. Iowa concludes its stint on the road with matches against conference newcomers Maryland and Rutgers on Oct. 31 and Nov. 1, respectively.