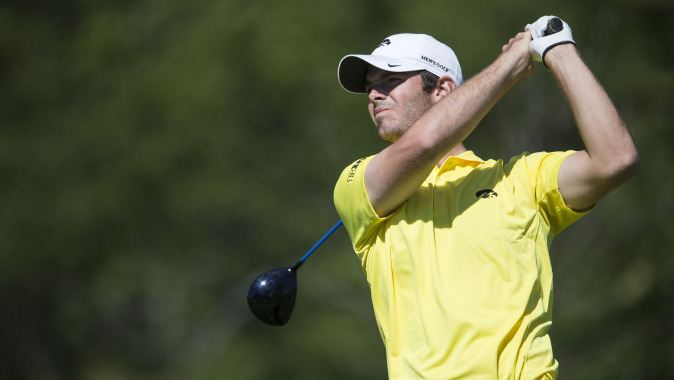 Oct. 27, 2014
Round 2 Results

DALLAS — Through two rounds of play at the seventh annual Royal Oaks Intercollegiate, the University of Iowa men's golf team currently sits in eighth place. The Hawkeyes were tied for 10th place after a first round score of 377 (+22), but improved their score by seven strokes in round two to bring their total to 747 (+37).
Iowa is competing in a field that includes No. 5 Baylor (host), No. 8 Texas Tech, No. 17 New Mexico, No. 20 SMU, No. 24 Oklahoma, Duke, Houston, Oklahoma State, UT-Arlington, and Big Ten foes, Michigan and Minnesota. Through two rounds of play, Oklahoma State leads the tournament (724).
Senior Brian Bullington led the way for the Hawkeyes on day one, posting a 77 (+6) in the first round before firing a 68 (-3), tying for a career-best, in the second round. The Frankfort, Illinois, native sits in a tie for 11th place on the individual leaderboard with a 36-hole total of 145 (+3). Knoll's second round total of 68 tied for the second lowest score through the first two rounds of play and helped vault him 40 spots in the individual standings.
Senior Ian Vandersee and sophomore Raymond Knoll are tied for 22nd and 27th. Vandersee, the 2012 Royal Oaks champion, recorded a 72 (+1) on the first 18, tying for a season-best, and a 76 (+5) on the second, pushing his total to 148 (+6). Knoll carded rounds of 74 (+3) and 75 (+4) for a total of 149 (+7)
Sophomore Carson Schaake, ranked 49th in the latest Golfweek Individual Rankings, shot a two-round score of 151 (+9), and holds a tie for 32nd place.
Junior Nate Yankovich bested his first round score of 79 (+8) by three strokes with a 76 (+5) in the second round. Yankovich is currently tied for 58th.
Making his season debut, junior Voramate Aussarassakorn carded rounds of 83 (+12) and 75 (+4) and sits in a tie for 67th overall.
The 54-hole event concludes on Tuesday with a final round of 18 holes beginning at 7:30 a.m. (CT). Live scoring is available at golfstat.com.