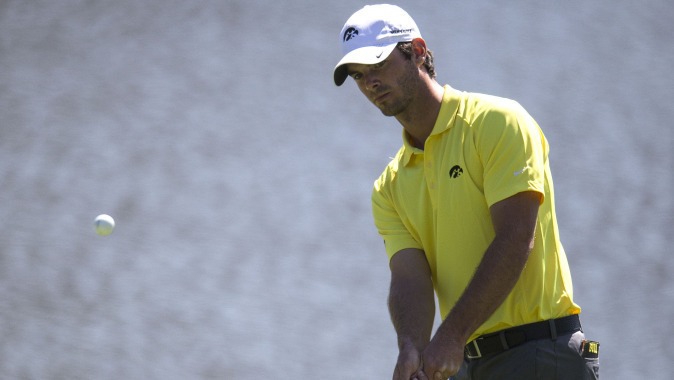 Oct. 28, 2014
Final Results

DALLAS — Four Hawkeyes finished inside the top 25 in the individual standings to propel the University of Iowa men's golf team to a sixth place finish at the seventh annual Royal Oaks Intercollegiate on Tuesday afternoon. Iowa recorded a three round score of 1,107 (+42; 377, 370, 360). The Hawkeyes' third-round total of 360 was the fifth lowest score of the two-day tournament.
Iowa finished in the middle of a 12-team field that included No. 5 Baylor, No. 8 Texas Tech, No. 17 New Mexico, No. 20 SMU, No. 24 Oklahoma, Duke, Houston, Oklahoma State, UT-Arlington, and Big Ten foes, Michigan and Minnesota. Oklahoma State won the 56-hole tournament by one stroke over tournament host Baylor with a final score of 1,080 (+15).
"Everyone was focused and ready to compete today," said UI head coach Tyler Stith. "It was definitely a positive way to wrap up the fall season."
Senior Brian Bullington led the way for the Hawkeyes, posting a 77 (+6) in the first round before firing a career-best 68 (-3) in round two. The Frankfort, Illinois, recorded a 71 (E) in the final round to finish in a tie for 11th place on the individual leaderboard with a 54-hole total of 216 (+3), registering his best finish of the season.
"Brian was outstanding over the final 36 holes," said Stith. "I'm really proud of his performance."
Sophomores Raymond Knoll and Carson Schaake finished tied for 16th place at 219 (+6), posting their best rounds of the tournament on Tuesday. Schaake carded a team-best 68 (-3) on day two to move him up 16 spots in the individual standings while Knoll strung together his best round of the season, posting a one-under-par 70.
Ian Vandersee registered his first top-25 finish of the season (T-24th), posting a 72, 76, and 74. The senior notched a three-round total of 222 (+9).
"To have four players finish in the top 25 shows the quality and strength of our team," said Stith.
Juniors Voramate Aussarassakorn (83, 75, 77) and Nate Yankovich (79, 76, 84) both recorded a three-round total of 235 (+22) to finish in a tie for 66th.
The Hawkeyes will begin the spring season on Feb. 7 at the Black and Gold Challenge in West Palm Beach, Florida.