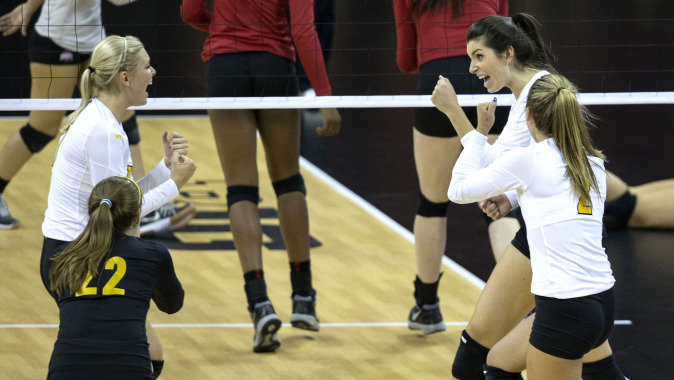 Oct. 29, 2014
Iowa @ Maryland/Rutgers

WEEKEND SUMMARY
The University of Iowa volleyball team (9-12, 1-9) continues its road swing this weekend with a pair of matches against Big Ten newcomers Maryland (9-12, 2-8) on Friday and Rutgers (7-16, 0-10) on Saturday. Both matches are scheduled to begin at 6 p.m. (CT).
FOLLOW ALONG
Friday's match at Maryland can be watched live online through BTN Plus available at btn2go.com. Live audio by Tim Keating through Hawkeye All-Access is available for both matches at hawkeyesports.com. Links to live stats for each match are also on the volleyball schedule page at hawkeyesports.com.
LINK UP WITH THE HAWKEYES
For an inside look at the Iowa Volleyball program and to access exclusive coverage, "like" University of Iowa Volleyball on Facebook and follow @IowaVolleyball on Twitter. Follow the team's live Twitter feed, @IowaVB_Live, for more frequent in-match tweets, play-by-play, statistics and more.
ALL-TIME
? Iowa will face Maryland for the first time in program history this Friday.
? Iowa leads Rutgers, 1-0, all-time. The Hawkeyes won the lone meeting between the teams in straight sets (15-13, 15-7, 15-8) in Iowa State Invitational action on Sept. 13, 1997.
QUICK HITTERS
? The Hawkeyes are back to running a 6-2 offense with setter duo sophomore Alyssa Klostermann and freshman Kaylee Smith.
? Senior Alessandra Dietz is second all-time at Iowa with a .268 career hitting percentage and 16th all-time with 247 career blocks. This is just her third season with the Hawkeyes, as she played volleyball at Marymount in California as a freshman.
? Senior Alex Lovell is 10th all-time at Iowa with 1263 career kills.
? Dietz set a new school record when she posted an .882 attack percentage at South Dakota State on Sept. 13. She recorded 15 kills on 17 attempts with no errors in the match.
? Four Hawkeyes — Dietz, Julianne Blomberg, Smith, and Michelle Fugarino — have appeared in every set for Iowa this season (70).
? Lauren Brobst (outside hitter), Dietz (middle blocker), Mikeala Gunderson (middle blocker) and Fugarino (libero) have started all 21 matches for Iowa this season.
? Iowa earned its first Big Ten win over Northwestern on Oct. 18. It is the program's first win over the Wildcats since Oct. 23, 2009, the first-year staff's first conference win, and the team's first victory of the year in Carver-Hawkeye Arena.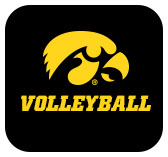 ONE AWAY
First-year head coach Bond Shymansky owns a career record of 299-121 (.712) and is just one win away from logging his 300th career victory following Iowa's 3-2 win over Northwestern on Oct. 18. This is his 13th season as a head coach. He spent the past five seasons (2009-13) at the helm of the Marquette volleyball program and seven seasons leading Georgia Tech (2002-09).
REPRESENTING THEIR HOME STATES
Three Hawkeyes had the opportunity to play in their home states last weekend and made the most of it, leading the team in several categories. Last Wednesday against the Badgers, Wisconsin natives Michelle Fugarino and Mikaela Gunderson led the team with 16 digs and four blocks, respectively.
On Saturday against the Golden Gophers, Minnesota native Julianne Blomberg led the team offensively and set a career-high with seven kills on 21 attempts. She committed just one error on the attack, and recorded five digs, Iowa's lone solo block and a block assist.
B1G = BIG DEAL
Six Big Ten institutions appear in the most recent release of the American Volleyball Coaches Association Division I Coaches Poll (Oct. 27). No. 4 Wisconsin, No. 6 Penn State and No. 10 Illinois rank in the top 10, while No. 13 Purdue, No. 14 Nebraska and No. 17 Ohio State appear in the top 20. A seventh team, Minnesota, fell out of the rankings but is receiving votes this week (30).
Seven of Iowa's nine Big Ten losses this year have been to a team currently ranked in the top 25. The Hawkeyes have 10 conference matches remaining in the 2014, four against currently ranked opponents.
B1G RUNDOWN
? Iowa is 13th in the Big Ten standings with a record of 1-9 heading into Week 6 of the conference season. The Hawkeyes trail Maryland by one match (2-8) and are ahead of Rutgers by one match (0-10).
? Senior Alessandra Dietz ranks 11th in the Big Ten in hitting percentage (.334) and 14th in service aces per set (0.26).
? Sophomore Alyssa Klostermann is eighth in the conference in service aces per set (0.28) and 14th in assists per set (5.72).
? Senior Alex Lovell is 15th in kills per set (2.98).
? Freshman Kaylee Smith is 13th in assists per set (5.77).
? Junior Mikaela Gunderson ranks 13th in blocks per set (1.03).
? Freshman Michelle Fugarino is seventh in the conference and second among freshmen in the league in digs per set (4.10). Brandi Donnelly of Illinois sits ahead of Fugarino in the freshmen standings with a 4.55 dig per set average.
ON DECK
UI volleyball is back in Iowa City for two matches at home next week. The Hawkeyes face Indiana and Purdue for the first time this season on Wednesday, Nov. 5 and Saturday, Nov. 8, respectively. Both matches will begin at 7 p.m. (CT) on Mediacom Court in Carver-Hawkeye Arena. Wednesday's match is $1 hot dog night and Saturday is Junior Hawk Club Night. Doors open at 6 p.m.
GET YOUR TICKETS
Purchase tickets for any remaining Iowa volleyball home match for $5 apiece. Youth can attend matches free of charge. Tickets can be purchased on the day of the game or in advance through the UI Athletics Ticket office at 1-800-IA-HAWKS or online at hawkeysports.com.
A NEW ERA Bond Shymansky was named the ninth head coach of the Iowa volleyball program on Jan. 31, 2014. The UI alum and Iowa City, Iowa, native owns a career record of 299-121 (.712) amidst his 13th season.
Shymansky came to Iowa following five seasons (2009-13) at the helm of the Marquette volleyball program, where he guided the Golden Eagles to their first NCAA berth, NCAA victory, and first Big East regular season title. Marquette also won a Big East Tournament Championship, and made three-straight postseason appearances (2011-13).
Shymansky added associate head coach Michaela Franklin and assistant coach Jackie Simpson on Feb. 25, 2014 and completed his staff with the addition of director of operations Danielle Carlson.
#GREATTODAY
The Hawkeye volleyball program has been focused on one moniker since the arrival of head coach Bond Shymansky and his staff. Whether student-athletes are on the court, training in the weight room or learning in the classroom, the Hawkeyes want to be #GreatToday. A major shift in a program can be challenging, but striving for greatness in each area with exceptional effort has been helpful for the group.