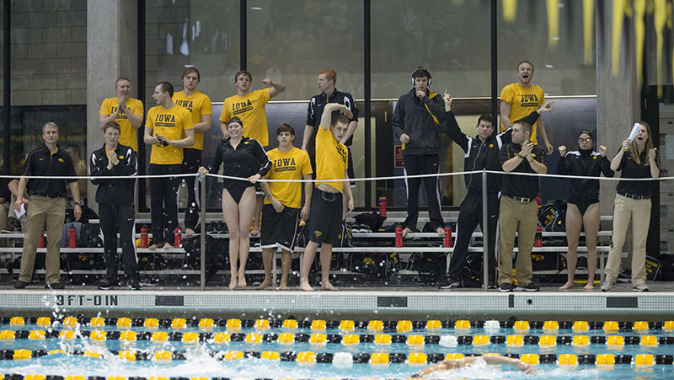 Oct. 30, 2014
IOWA CITY, Iowa — The University of Iowa men's swimming and diving team is 23rd in the initial College Swimming Coaches Association of America (CSCAA) Division I team dual rankings, announced Thursday by the CSCAA.
The Hawkeyes currently boast a 1-1 dual meet record, falling to top-ranked Michigan, 173-119, on Oct. 3 in their regular season opener before downing Michigan State, 174-126, on Oct. 17.
Iowa is one of eight Big Ten Conference schools in the rankings, along with Michigan (No. 1), Indiana (No. 8), Ohio State (No. 10), Wisconsin (No. 13), Penn State (No. 18), Minnesota (No. 19), and Northwestern (No. 21). The Hawkeyes concluded the 2013-14 season ranked 25th in the final CSCAA poll.
The Hawkeyes return to action Friday squaring off with Minnesota at the University Aquatic Center in Minneapolis at 5 p.m. (CT).