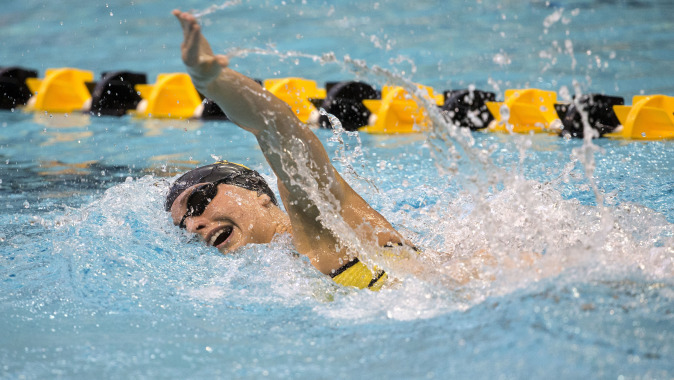 November 4, 2014
"The team is coming together and showing some outstanding performances," said UI head coach Marc Long. "Using time as a measure we've shown some top times, and that's a great start to the season. It's exciting to watch it all unravel, the team is still growing and improving each week."
Senior Becky Stoughton ranks eighth nationally in the 1,000-yard freestyle with a top time of 9:49.51. The Peoria, Illinois, native has posted a pair of runner-up times in 2014, and a first-place finish against Michigan State on Oct. 17.
In the 100-yard breaststroke, sophomore Emma Sougstad ranks seventh with a top time of 1:01.28. Sougstad also ranks 23rd nationally in the 200-yard breaststroke (2:15.66). The Forest City, Iowa, native was named the Big Ten Conference Swimmer of the Week on Nov. 4, after posting a pair of NCAA `B' cut times in the dual against Minnesota on Oct. 31.
Seniors Grant Betulius and Chris Freeman both have top-25 times in the backstroke events. Betulius is ninth in the 100-back with a top time of 48.18, while Freeman has the 23rd fastest time in the 200-back (1:47.38).
Junior Roman Trussov has a pair of top times in the breaststroke events, coming in 18th in both the 100-breast (55.28) and 200 breast (2:00.81). The Kazakhstan native has recorded four top finishes with wins in both events against Michigan State on Oct. 17, and Minnesota on Oct. 31.
In the 200-yard butterfly, freshman Jerzy Twarowski is 15th nationally with a top time of 1:47.55. The Krakow, Poland, native earned Big Ten Freshmen of the Week honors following his performance at Minnesota on Oct. 31, where he earned a first-place finish in the 200-fly.
"It's still early in the season, and we've a good one coming up," said Long. "We're ready to get back in the pool and start training and preparing for a fast Hawkeye Invitational and the rest of the season."
The Hawkeyes return to action Dec. 5-7, hosting the Hawkeye Invitational at the Campus Recreation and Wellness Center Pool.