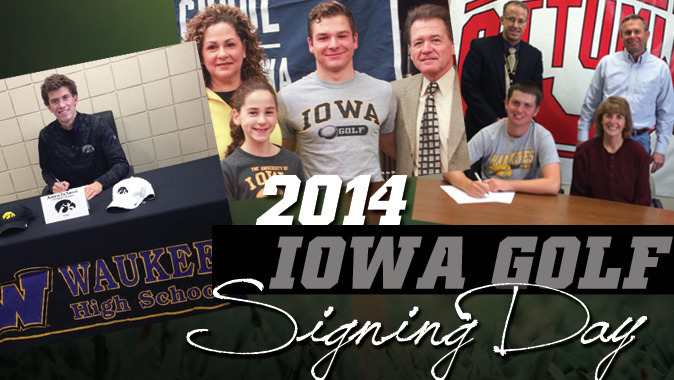 Nov. 13, 2014
IOWA CITY, Iowa — The University of Iowa men's golf team has received National Letters of Intent from Aaron DeNucci, Matthew Walker, and Aaron Wirt. All three golfers will join the Hawkeyes in the fall of 2015, UI head coach Tyler Stith announced Thursday.
All three are ranked inside the Polo Golf Rankings top 100 for the class of 2015. Walker is the highest ranked Iowa commit at 58th and is followed by DeNucci at 82 and Wirt who is ranked 95th.
"I am proud to welcome three quality individuals to our team," said Stith. "They all come from great families with strong work ethics, and each brings something slightly different to our program. I know they will make Hawkeye fans proud."
Walker was a four-year letterwinner while attending Ottumwa High School in Ottumwa, Iowa. He is ranked the No. 1 prospect in the state of Iowa by Golfweek, and was awarded first-team all-state and first-team all-conference honors in all four years of high school. Walker won the 4A state tournament in 2012 as a sophomore and again as a senior in 2014.
"Walker is a great competitor and has proven himself at the highest level of junior golf," said Stith.
Wirt, a Des Moines, Iowa, native, was a four-year letterwinner while attending Roosevelt High School. He earned 4A First-Team All-State honors as a junior and senior, and earned medalist honors 11 times both years to lead the Roughriders to their first (2013) and second (2014) state tournament appearances in 17 years. Wirt was named to the 4A State All-Tournament team in 2013 and 2014. He was the 2012 Iowa PGA Junior Player of the Year.
"Wirt is strong technically and has an impressive ball flight that will allow him to adapt quickly at this level," said Stith.
DeNucci, a native of Clive, Iowa, is ranked by Golfweek as the No. 3 prospect in the state of Iowa and was named the Iowa Golf Association's Junior Player of the Year. He finished inside the top 12 in two American Junior Golf Association events in 2014, including a ninth place finish at the AJGA St. Louis Junior Amateur. DeNucci qualified for the U.S. Junior Amateur where he advanced to the round of 16.
"DeNucci is athletic and his game is improving rapidly," said Stith. "He understands his game well and plays within himself."
The Hawkeyes open the spring season in Palm Coast, Florida, where they will compete in the seventh annual Big Ten Match Play Championships (Feb. 15-16). Iowa is looking to make its seventh-straight NCAA Regional appearance this season.