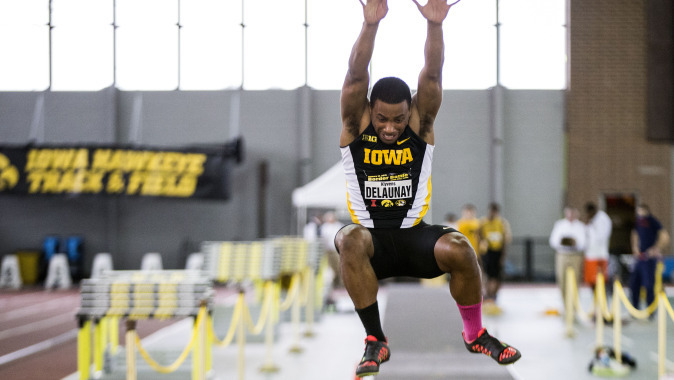 Feb. 2, 2015
By JORDAN BUCHER
IOWA CITY, Iowa — The new month brings new expectations for the University of Iowa track and field team as director of track and field Joey Woody looks ahead to the end of the season. The Hawkeyes compete in five events prior to the Big Ten Championships in Geneva, Ohio on Feb. 27-28.
"We're headed into more of what I call our championship season once we get into February," Woody said. "We had our first two meets as developmental meets to test the level of some of our athletes at this point in the season. Now it's more about getting them ready to face better competition and take the next step to competing at Big Ten-level marks."
At the Big 4 Duals on Jan. 24, Iowa took home 12 event titles and had six individuals record marks that rank within the top 10 in the conference.
"We may have dominated in certain events (at the Big 4 Duals), but the performances were still not good enough to make the finals at the Big Ten Championships," Woody said.
The Hawkeyes open the newly classified "championship" portion of their season at the Frank Sevigne Husker Invitational in Lincoln, Nebraska, on Feb. 6-7. A year ago, 11 Hawkeyes recorded personal bests on the banked track at the Bob Devaney Sports Center.
"That will be an important meet for us," Woody said. "It will challenge our athletes to handle a two-day situation with prelims and finals. It will be a great way for us to see where we stand against a lot better competition in every event."
The team will split into two groups the following weekend and compete at the Iowa State Classic in Ames, Iowa, and the Tyson Invitational in Fayetteville, Arkansas.
The Tyson Invitational is contested on the home track of the 2015 NCAA Indoor Championship, and serves as a course preview for some of the best competitors in the country.
Last season, Klyvens Delaunay hit a career-best 52-1 ¼ (15.88m) at the Randal Tyson Track Center to qualify for the NCAA Indoor Championships for the first time in his career.
"The Tyson Invitational features some of the best teams in the country, so it provides an excellent opportunity to reach new levels and hit qualifying marks," said Woody. "The Iowa State Classic will be more for the field-event athletes and distance events. There will be a lot of national qualifiers out of that meet, especially in the 800 and above."
Prior to the Big Ten Championships, the Hawkeyes compete in the Alex Wilson Invitational in South Bend, Indiana, and the UNI-Dome Open in Cedar Falls, Iowa, on Feb. 21.
For now, the team will spend the next week preparing not only for what lies directly ahead, but what has yet to come.
"We need to keep training hard and keep our minds focused on the conference meet," Woody said. "This is a time to get ready and prepared for the end of the season — that is why I call it our championship season once we get into February."