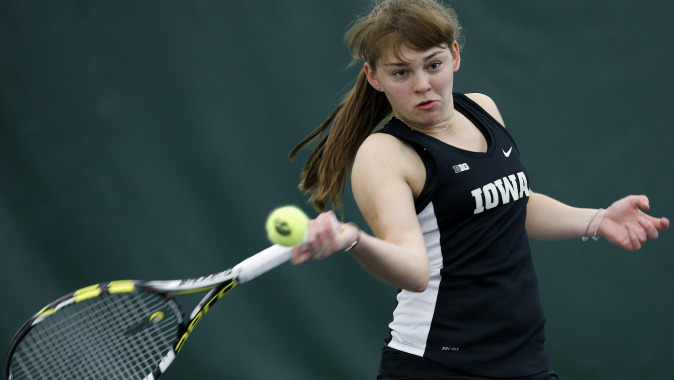 April 4, 2015
MINNEAPOLIS — The University of Iowa women's tennis team fell to 59-ranked Minnesota, 6-1 on Saturday afternoon. The Hawkeyes hold an 8-8 record overall and drop to 2-4 in Big Ten competition.
"The team competed hard today," said UI head coach Katie Dougherty. "Doubles was close and came down to a couple of key points. We battled today and everyone is embracing moving up a spot in the line-up with Shelby out for the time being."
The Golden Gophers pulled ahead early, gathering the doubles point with victories at the No. 2 and No. 3 positions. Freshman Zoe Douglas and senior Katie Zordani fell to Minnesota's Julia Courter and Jessika Mozia, 8-6. Golden Gophers Mehvish Safdar and Caroline Ryba overcame Iowa sophomore Aimee Tarun and freshman Anastasia Reimchen, 8-4 at the No. 3 slot.
Hawkeye duo Morven McCulloch and Annette Dohanics were tied with Minnesota's Tereza Brichacova and Paula Rincon Otero, 7-7 when the match was abandoned.
Iowa struggled to gain momentum in singles play, as Douglas recorded the only victory for the Hawkeyes at the No. 6 position. She collected a 3-6, 6-4, 1-0 (10-5) triumph over Paula Rincon Otero.
"Zoe has done a great job stepping into the lineup and making the most of her opportunity," Dougherty noted of the freshman's success at the No. 6 singles slot.
Leading off the line-up for the Hawkeyes, McCulloch fell behind in the first set, 2-6 to Minnesota's Tereza Brichacova. The senior bounced back in the second set, collecting a 6-1 win to force a third set battle. However, Brichacova held off McCulloch, posting a 1-0 (11-9) win to clinch a victory at the top of the lineup.
Reimchen and Dohanics both fell in straight sets, 6-4, 6-2, at the No. 2 and No. 3 singles positions, respectively. Seniors Zordani and Ellen Silver were also overcome in straight sets at the No. 4 and No. 5 slots. Zordani was overwhelmed by Aria Lambert, 6-3, 6-3, while Silver struggled to pull in front of Julia Courter, being defeated 6-4, 6-0.
Iowa returns to action on Sunday as they travel to Madison, Wisconsin to take on the Badgers. Competition is set to begin at 12 p.m. (CT) inside Nielsen Tennis Stadium.
Iowa 1, #59 Minnesota 6
Singles Results
1. Tereza Brichacova (MINN) def. Morven McCulloch (IOWA) 2-6, 6-1, 1-0 (11-9)
2. Caroline Ryba (MINN) def. Anastasia Reimchen (IOWA) 6-4, 6-2
3. Jessika Mozia (MINN) def. Annette Dohanics (IOWA) 6-4, 6-2
4. Aria Lambert (MINN) def. Katie Zordani (IOWA) 6-3, 6-3
5. Julia Courter (MINN) def. Ellen Silver (IOWA) 6-4, 6-0
6. Zoe Douglas (IOWA) def. Paula Rincon Otero (MINN) 3-6, 6-4, 1-0 (10-5)
Order of finish (3,5,4,6,1,2)
Doubles Results
1. Tereza Brichacova/Paula Rincon Otero (MINN) vs. Morven McCulloch/Annette Dohanics (IOWA) 7-7, unfinished
2. Julia Courter/Jessika Mozia (MINN) def. Zoe Douglas/Katie Zordani (IOWA) 8-6
3. Mehvish Safdar/Caroline Ryba (MINN) def. Aimee Tarun/Anastasia Reimchen (IOWA) 8-4
Order of finish (3,2)