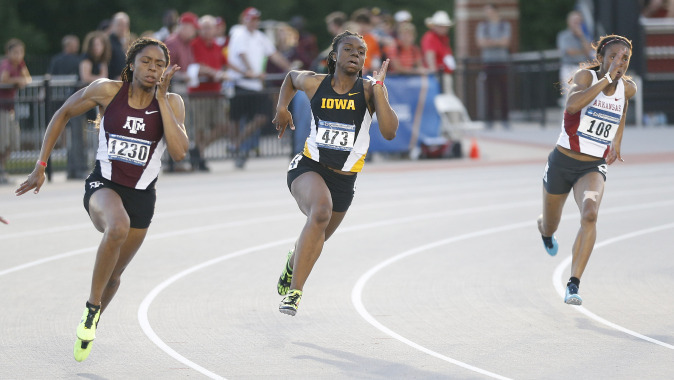 April 18, 2015
Complete Results

WALNUT, Calif. — The University of Iowa track and field team had three student-athletes and one relay compete among the elite during the final day of action at the 57th Annual Mt. Sac Relays on Saturday. The event was held at Mount San Antonio College in Walnut, California. No team scores were kept.
Sophomores Elexis Guster and Brittany Brown highlighted the day for the women.
Competing in the elite invitational 400 meters, Guster delivered a sixth-place finish in a season best 53.30. That time would top conference rankings and stand 19th nationally.
Brown ran her second-fastest 200-meter time ever when she cruised to the finish in a season best 23.14 to finish eighth overall. The Upland, California, native would defend her top ranking in the Big Ten and would move to 11th nationally.
"We had another very good day," director of track and field Joey Woody said. "Brittany beat some great athletes today. She set herself up well in the Big Ten and the NCAAs. Elexis was also a highlight for the women, running one of her best times ever and matching the performance she ran here last season when she was a Big Ten Champion."
For the men, sophomore Aaron Mallett posted 13.77 to take ninth, respectively, in the elite invitational 110-meter hurdles.
"I was also very happy to see Aaron run a good time today with what was not a great technical race," Woody said. "He beat some highly ranked athletes head-to-head, which always leads to great performances down the line."
Junior MonTayla Holder, Guster, junior Lake Kwaza, and Brown joined forces in the women's 400-meter relay. The quartet recorded the sixth-fastest time in school history at 44.93 to finish seventh, respectively, in the elite invitational heat. That time would continue to stand third in conference rankings.
The Hawkeyes return to action at the Drake Relays in Des Moines, Iowa, from April 22-26.