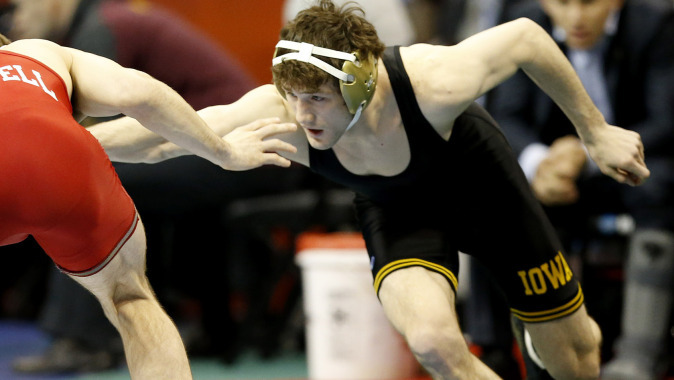 May 5, 2015
IOWA CITY, Iowa — Six members of the Hawkeye Wrestling Club travel to Las Vegas this week to compete at the U.S. Senior Open on Saturday and Sunday at the South Point Hotel Casino and Spa.
Daniel Dennis (61 kg), Phillip Keddy (86 kg), Matt McDonough (57 kg), Brent Metcalf (65 kg), Tony Ramos (57 kg), and Derek St. John (70 kg) compete in the men's freestyle tournament beginning Friday at 11 a.m. (CT). The consolation round continues Saturday at 11 a.m., and the championships are Saturday at 9 p.m.
The top five athletes in each weight class automatically qualify for the U.S. Freestyle World Team Trials in Madison, Wisconsin, on June 12-14. The winner of each weight class receives an automatic berth to the finals at the World Team Trials.
Metcalf outscored his opponents 39-0 to win the 2014 U.S. Senior Open. He later swept the best-of-three finals at the World Team Trials to earn a spot on the U.S. World Team. Ramos and St. John are making their U.S. Senior Open debuts. Keddy placed sixth a year ago and McDonough placed fourth.
Universal?Sports Network will televise the finals Saturday at 9 p.m. (CT). NBC Sports Network will replay a broadcast Wednesday, May 13, at 10:30 p.m. (CT).
The entire Open Wrestling Championships will be webcast live by FloWrestling.