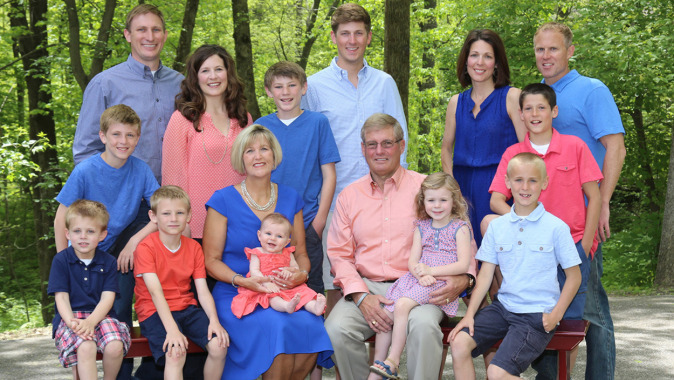 May 8, 2015
Editor's Note: The following first appeared in the University of Iowa's Hawk Talk Daily, an e-newsletter that offers a daily look at the Iowa Hawkeyes, delivered free each morning to thousands of fans of the Hawkeyes worldwide. To receive daily news from the Iowa Hawkeyes, sign up HERE.
By BEN FROTSCHER
UI Foundation
IOWA CITY, Iowa — The passion for America's pastime runs deep in the veins of Gary and Cheryl Sharp.
Gary competed for the Waterloo (Iowa) East High School and University of Wyoming baseball and football teams, and Cheryl played softball at a St. Louis suburb while hearing stories of her father's playing career with the St. Louis Cardinals organization. The summer tradition of baseball has always been part of their everyday lives.
"We'd listen to games when I was a kid and go to spring training games as well," Cheryl said. "When you know the game and watch baseball as much as Gary and I do, you have a great appreciation for the little things."
That appreciation for baseball, specifically at the University of Iowa, was elevated when Rick Heller was hired as UI baseball coach in July, 2013. Heller, who coached the University of Northern Iowa's baseball team for 11 years, had a relationship with the Sharp's son, Alex, who played baseball at Division III Wartburg College.
"Alex attended Rick's camps when he was at UNI, and I always liked his philosophy of `players' first,'" Gary said. "He really does look out for the players — and their longevity — and knows so much about the game. Through Alex — and Rick — our passion for baseball went to the next level."
The Sharps, who have supported Hawkeye student-athletes for nearly 30 years, have since made a generous contribution toward a new state-of-the-art videoboard — the Sharp Family Video Board — in left center field at Iowa's Duane Banks Field. The Sharps have three children — Nicole Sharp Woods (Mikel), Camille Sharp Schmidt (Andrew), and Alex Sharp.
"With adequate support, we felt Rick could get it done at Iowa," Gary said. "We liked his ideas, where he wanted the program to go, and we wanted to help him succeed. When we were asked about supporting the baseball team, it really hadn't crossed our minds, but we thought it was a great opportunity to help with the rebirth of Hawkeye baseball."
The addition of the new videoboard is the latest of a number of changes taking place at the facility. After infield surface changes occurred in 2014, 2015 saw outfield renovations, including a new padded wall on the outfield fence and down the foul lines. The final phase of reconstruction calls for new stadium seating and a press box to be constructed surrounding the existing playing field.
Heller, the 20th head coach in the history of the UI baseball program, went 30-23 in 2014 for just the third 30-win season since 1993. The team also qualified for the Big Ten Tournament, winning a tournament game for the first time since 2010. The Hawkeyes are nationally-ranked and have reached the 30-win plateau in 2015, giving the program its first two back-to-back 30-win seasons since 1989 and 1990.
"During my career as a baseball coach, I've really gotten to know Gary and Cheryl Sharp," Heller said. "They're such humble and passionate individuals, and I couldn't think of two more outstanding people to support our Hawkeyes with the latest renovations to Duane Banks Field. Their support is helping us build one of the best facilities in the Big Ten Conference for our student-athletes."
For Gary Sharp, who founded his own company, Advanced Heat Treat Corp. — a company that now employs more than 180 people in Alabama, Iowa, and Michigan — and Cheryl Sharp, who has an extensive background in education, giving back to the University of Iowa is really all about the importance of athletics in the development of the next generation of leaders.
"Being involved in athletics certainly helped me learn a lot of good characteristics — never giving up and hard work," Gary said. "Because of our friendship with Rick and the other coaches on staff, that connection with the University of Iowa drove us to make this gift. We knew this was one area we wanted to support fully."
"This seemed like the right for us," Cheryl said. "We're truly blessed."