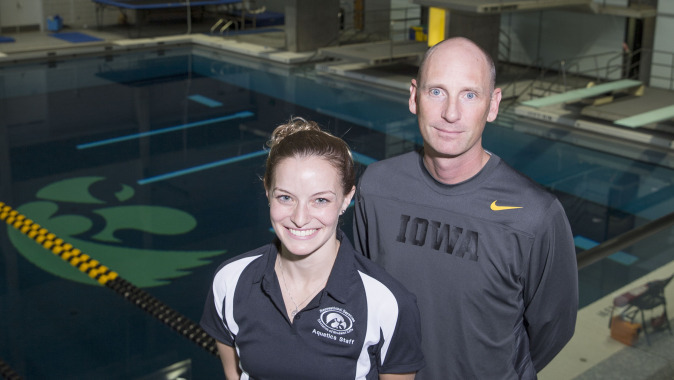 May 18, 2015
24 Hawkeyes to Watch

IOWA CITY, Iowa — University of Iowa diving coach Todd Waikel and former Hawkeye standout Deidre Freeman have each gathered a spot on the United States diving team for this year's Pan American Games, the U.S. Olympic Committee announced on Monday.

The Pan American Games are the world's third-largest multi-sport competition; they are only surpassed by the Olympic Games and the Asian Games. This year's competition is set to take place in Toronto.

Waikel will serve as a team leader and diving coach for U.S. roster, which is comprised of eight of the country's top divers. Freeman, a 2009 UI graduate and current assistant diving coach, is one of eight divers who were selected to represent the U.S.

The Pan American games will run from July 10-26, with diving events slated to take place from July 10-13. The weekend's diving schedule features eight diving events; four individual events and four synchronized events. The four individual events will qualify their country a quota place for the 2016 Summer Olympics in Rio de Janeiro, Brazil.

Freeman is scheduled to compete in two events; individually off the 3-meter on July 12, and as a member of the U.S. synchronized 3-meter team alongside University of Texas diver Maren Taylor on July 13. The duo last competed on April 12, diving to a second-place finish at the USA Diving Synchronized National Championships in Greensboro, North Carolina.