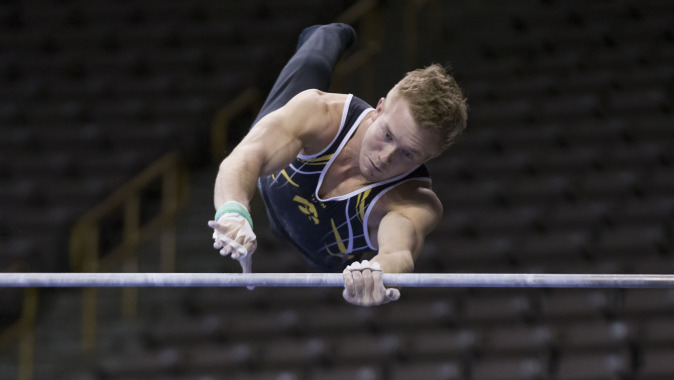 May 27, 2015
IOWA CITY, Iowa — When Oakville, Ontario, native Cory Paterson returns to Canada this summer, he will be there for more than just a visit home.
Paterson — the defending Canadian National Champion on high bar — will compete once again in the Canadian National Championship this weekend, May 30-31, in Quebec, Canada. After a strong sophomore season with the Hawkeyes, he has his mind set on accomplishing even more there with an Olympic opportunity on the line.
The Canadian National Championship provides a stage for top Canadian gymnasts to showcase their talents and compete to secure a spot on the country's Olympic roster. The 2016 Olympics will be held in Rio.
"To make the Canadian Olympic team would be huge," Paterson said. "It's been a dream of mine since I was a kid."
"I feel good and I'm healthy. We took a couple of weeks to taper down during finals week, and this week we've ramped it back up to get ready for nationals."
A year ago, Paterson put on one of the best performances Reive has ever seen when he won the National Championship on high bar with a score of 13.850. It was a surprise for Paterson who, after his freshman season, finally saw the results he had been looking for.
"Cory is super committed to national team stuff for Canada," head coach JD Reive said. "He finished the season, used that as a nice platform, and did several events that we needed him to do this year.
"I expect he will go up and hit six routines. I expect him to go up there and show their national team coordinator that he is a consistent and reliable competitor with improved gymnastics."
Paterson's experience with the Hawkeyes this season has helped prepare him for this opportunity. The program made its second appearance in NCAA team finals in the last three years, and went on to earn a sixth place finish at the NCAA Championship. The Hawkeyes were on the rise this season, but so was Paterson. He showed promise individually despite his youth, and was the only underclassman on the roster to post a top score on an event (15.100, high bar, at the Windy City Invitational).
Following the completion of the season, Paterson continued his training to prepare for his national opportunity while others took time to rest. Reive knows the value of his continued training and is excited for what it will do for him in the long run.
"Allowing him to compete in the summer when everybody is in a down time keeps him healthy, Reive said. "It keeps him training, keeps him hungry and keeps him motivated for the next thing.
"There is a lot of time between seasons for us, and if you're not doing national team stuff then you're missing a lot of time to work out. These opportunities give them a purpose to train, and we'll benefit from it in the fall."