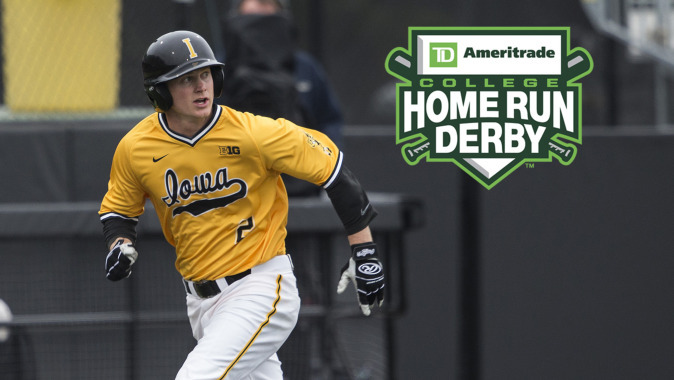 June 8, 2015
OMAHA — University of Iowa senior Eric Toole is one of 10 finalists to advance to round two of the 2015 TD Ameritrade College Home Run Derby Fan's Choice Award. The award recognizes college baseball players who excel beyond the diamond and whose leadership inspires others.
Fans can view profiles of the finalists and vote daily by visiting www.FansChoiceAward.com.
Along with Toole, the other finalists advancing are: Tim Caputo (Rhode Island), Adam Boghosian (North Greenville), Kevin Wortman (Florida Tech), Aaron Mizell (Georgia Southern), Joe Giacchino (Delaware), Andrew Guillotte (McNeese State), Michael Jurgella (St. Cloud State), Tanner Lubach (Nebraska), and Matt McClain (St. Mary's, Texas).
The TD Ameritrade Fan's Choice Award is the only college baseball award determined solely by fans. There are two rounds of voting left before the winner is announced: Round Two opens today and ends June 15, after which the field will be reduced to the top four vote getters. The final round of voting will end June 22, and the winner will be officially announced later that day. The winner will be honored at the TD Ameritrade College Home Run Derby in Omaha, Neb., on July 2, airing live on ESPN.