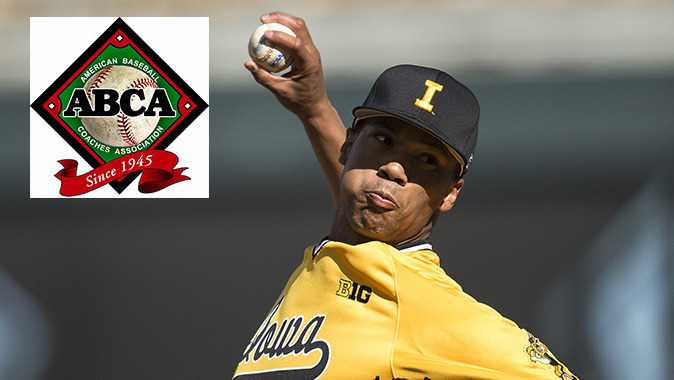 June 10, 2015
IOWA CITY, Iowa — University of Iowa junior Blake Hickman has been named a second-team American Baseball Coaches Association (ABCA) All-Mideast Region selection, it was announced Wednesday by the organization.
It is the second straight year the program has had an ABCA All-Region selection, as Jake Yacinich and Jake Mangler were first-team honorees in 2014.
Hickman was a first-team All-Big Ten and third-team All-American as a junior, finishing 9-2 with a 2.99 ERA in 16 starts. He allowed 32 runs (28 earned) on 66 hits over 84 1/3 innings with 52 strikeouts. Hickman limited hitters to a .215 batting average.
The right-handed pitcher was selected in the seventh round of the Major League Baseball First-Year Player Draft on Tuesday by the Chicago White Sox — Iowa's highest draftee since 1999. Hickman's nine victories were tied for the fifth-most in the Big Ten and were the second-most in a single season in school history.
Hickman helped Iowa to one of its best seasons in school history. The Hawkeyes won 41 games — the second-most in the program's history — and advanced to NCAA Regional play for the first time since 1990. Iowa won a NCAA Tournament game for the first time since 1972.