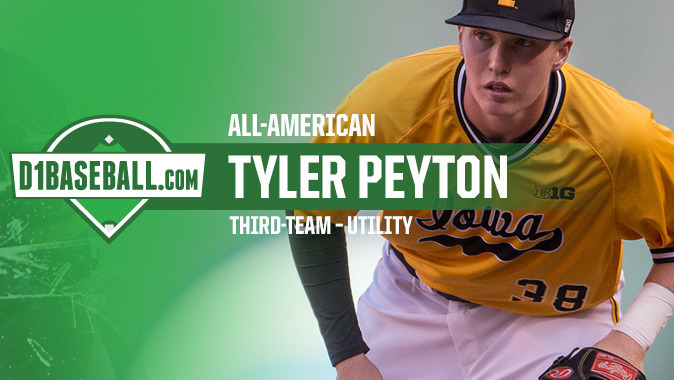 June 11, 2015
IOWA CITY, Iowa — University of Iowa junior Tyler Peyton has been named a third-team All-American as a utility player by D1Baseball.com, it was announced Thursday. It is Peyton's second All-America honor in as many days.
The right-handed pitcher/first baseman earned third-team All-America honors by the National Collegiate Baseball Writers Association on Wednesday. It is Iowa's third All-America nod this season, as Blake Hickman was a Louisville Slugger third-team honoree as a starting pitcher.
Peyton is the first Hawkeye since Tim Costo in 1990 to earn All-America distinction by two different outlets. Costo was a first-team All-American by Baseball America and The Sporting News.
As Iowa's Friday night starting pitcher, Peyton went 7-4 with a 3.03 ERA. He logged a team-high 95 innings, allowing 35 runs (32 earned) on 94 hits and had 74 strikeouts against 24 walks. He ranked in the top 12 in the Big Ten in ERA, innings, strikeouts, and wins.
Offensively, Peyton hit a team-best .337 with 31 runs and 31 RBIs. He tied for the team lead with 11 doubles and paced the squad with 34 walks. The John Olerud Two-Way Player of the Year Award semifinalist and third-team All-Big Ten selection had 18 multi-hit games, seven multi-RBI games, and hit safely in 39 contests.
Peyton was selected in the 33rd round of the Major League Baseball First-Year Player Draft on Wednesday by the Cincinnati Reds.
The Hawkeyes enjoyed one of their best seasons in school history in 2015. Iowa won 41 games — the second-most in the program's history — and advanced to NCAA Regional play for the first time since 1990. The team won an NCAA Tournament game for the first time since 1972.