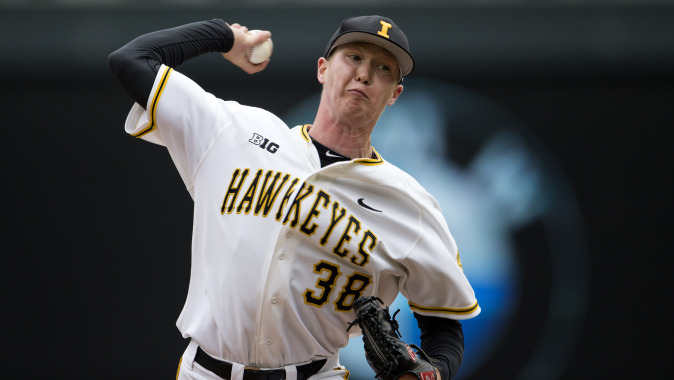 June 11, 2015
IOWA CITY, Iowa — University of Iowa baseball junior Tyler Peyton will return for his senior season in 2016, the right-handed pitcher/first baseman announced Thursday. Peyton was selected by the Cincinnati Reds in the 33rd round of the 2015 Major League Baseball First-Year Player Draft on Wednesday.
"Choosing between school and professional baseball was one of the most difficult decisions I have encountered," said Peyton. "I feel that returning for my senior season is the right choice for me.
"It's an indescribable feeling to be a Hawkeye, and I want to have one more year with this coaching staff and in this program. I'm focused on earning a degree from the University of Iowa; that played a big part in my decision."
Peyton's return is a big boon for UI head coach Rick Heller. Peyton, a third-team All-American by the National Collegiate Baseball Writers Association and D1Baseball.com in 2015, was Iowa's Friday night starting pitcher, first baseman when he wasn't on the mound, and team's top hitter, batting in the three hole.
The Grimes, Iowa, native finished 7-4 with a 3.03 ERA as a junior, logging a team-high 95 innings and finishing with 74 strikeouts to 24 walks. Offensively, Peyton hit a team-best .337 with 31 runs and 31 RBIs. He was a semifinalist for the John Olerud Two-Way Player of the Year Award, given to the top two-way player in college baseball.