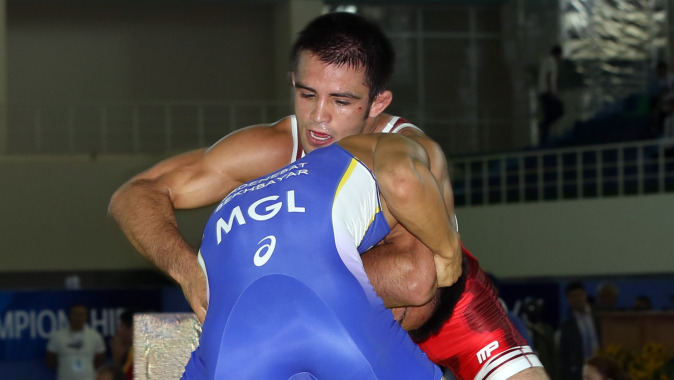 June 14, 2015
MADISON, Wisconsin — Three University of Iowa wrestlers earned spots on the United States World Team following titles at the U.S. World Team Trials in Madison, Wisconsin, this weekend.
Redshirt freshman Sam Stoll (120 kg) will represent Team USA at the UWW Junior World Championships in Brazil on Aug. 11-16, and UI graduates Brent Metcalf (65 kg) and Tony Ramos (57 kg) will compete on the U.S. Senior Team at the 2015 World Championships in Las Vegas on Sept. 7-12.
Metcalf swept Jordan Oliver in the best-of-three finals, 9-4, 7-0, to make the United States World Team for the third consecutive year and fourth time overall. He competed at the World Championships in 2010, 2013, and 2014.
Ramos made his second consecutive United States World Team with a sweep of Joe Colon, 6-0, 3-1.
Both wrestlers earned automatic berths in their respective finals following U.S. Open championships last month.
Stoll won a best-of-3 matchup when his opponent, U.S. Open champion Tate Orndorff, forfeited the Greco-Roman finals. Stoll, a bronze medalist at the 2013 Junior World Championships, will pursue a second medal at the UWW Junior World Championships in Brazil on Aug. 11-16.
Former UI All-American Daniel Dennis placed runner-up at 61 kg in men's freestyle. Dennis won the challenge tournament, but lost to Reece Humphrey, 12-1, 4-1, in the best-of-three finals. Dennis defeated Olympic Bronze medalist Coleman Scott in semis of the challenge tournament, and scored a last-second takedown to defeat Kendrick Maple, 6-4, in the challenge finals. His runner-up performance earns him a spot on the U.S. National Team for the 2015-16 year.
The 2015 United States World Team includes Ramos, Humphrey, Metcalf, James Green (70 kg), Jordan Burroughs (74 kg), Jake Herbert (86 kg), Kyle Snyder (97 kg), and Tervel Dlagnev (125 kg). The 2015 World Wrestling Championships are at the Orleans Arena in Las Vegas from Sept. 7-12.
2015 Senior World Team Trials
Hawkeye Wrestling Club finals matchups
57 kg/125.5 lbs.
Best-of-three finals
Tony Ramos dec. Joe Colon, 6-0
Tony Ramos dec. Joe Colon, 3-1
61 kg/134 lbs.
Challenge Tournament
Daniel Dennis tech. fall Joey Lazor, 10-0
Daniel Dennis dec. Coleman Scott, 8-6
Daniel Dennis dec. Kendrick Maple, 6-4
Best-of-three finals
Reece Humphrey tech. fall Dennis, 12-1
Reece Humphrey dec. Dennis, 4-1
65 kg/143 lbs.
Best-of-three finals
Brent Metcalf dec. Jordan Oliver, 9-4
Brent Metcalf dec. Jordan Oliver, 7-0
2015 UWW Junior Greco-Roman Wrestle-off
120 kg/264 lbs.
Best-of-three
Sam Stoll won by forfeit