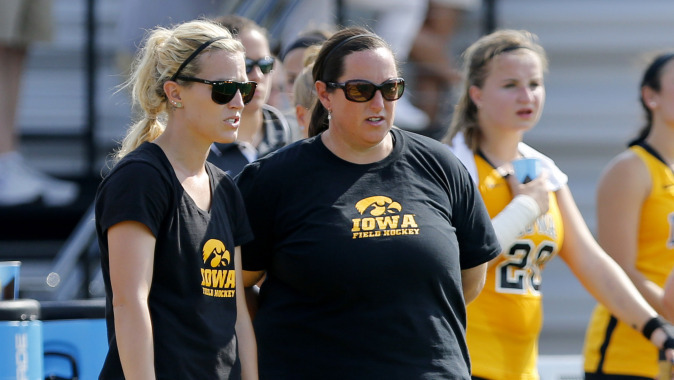 June 15, 2015
Editor's Note: The following first appeared in the University of Iowa's Hawk Talk Daily, an e-newsletter that offers a daily look at the Iowa Hawkeyes, delivered free each morning to thousands of fans of the Hawkeyes worldwide. To receive daily news from the Iowa Hawkeyes, sign up HERE.
BY MEGAN ROWLEY
IOWA CITY, Iowa — Lisa Cellucci completed her first season as head coach and 15th season as a member of the University of Iowa field hockey coaching staff in 2014. The Hawkeyes won 11 games in her first year at the helm, and have a 180-114 record while consistently maintaining a NFHCA top 20 ranking with Cellucci on staff.
This past season, Cellucci directed the Hawkeyes to a ranking as high as seventh nationally, finished the season ranked 16th in the country, and averaged more than three goals per game.
Under Cellucci's guidance, junior Natalie Cafone and sophomore Stephanie Norlander earned 2014 Longstreth NFHCA Division I All-America honors — Iowa's 86th and 87th All-Americans all-time — and four Hawkeyes were selected to participate in the 2015 Young Women's National Championship. Norlander was also selected to play for the Canadian National Team in an Olympic qualifying event. The Iowa program has produced six Olympians, the fifth most of any school in the country.
Cellucci's team was just as successful academically in 2014. Six student-athletes earned Big Ten Academic All-Big Ten honors, eight were named to the National Field Hockey Coaches Association (NFHCA) Division I National Academic Squad, and Brynn Gitt and Jessy Silfer were named Gladiator SGI/NFHCA Division I Scholars of Distinction.
As a student-athlete, Cellucci was one of the greatest goalkeepers in program history. She holds the school record with 592 saves, was a member of the U.S. National Team, earned four All-Big Ten honors, and was a three-time All-American.
Cellucci recently sat down with hawkeyesports.com to talk about the 2014 season and her long-term goals for the UI field hockey program.
As a long time player and coach, you obviously have a lot of pride in this program, how do you demonstrate or communicate that passion to your players?
"One of the most important things I learned during my time as a player and an assistant coach under great coaches like Beth Beglin and Tracey Griesbaum, that I try to pass along, is to always remember that passion and competitiveness devoid of integrity, focus and perspective doesn't win games. More importantly, it doesn't represent what a student-athlete should be as a member of the Iowa field hockey team. Even though I've been around a while, I continue to be stretched and challenged, and we should all hope that is the case. My coaches instilled in me that being a student-athlete won't last forever, so make sure you attend to both student and athlete. In both cases, leave it all on the field or in the classroom, but do so always being true to yourself and knowing that you can always improve and strive to be better. I try to carry on that tradition in our program today.
When you were named head coach you said it's important to maintain the tradition of excellence you've come to expect from this program. How did you do that, and how do you continue that mission?
"It has been a challenge given the circumstances that brought me into the role. I think despite those challenges, the biggest thing I have been trying to do is to make sure the players look at any adversity we face as an opportunity to come together and support each other. Losing a game, having a bad practice, or dealing with something that might seem unfair or unjust should always be an opportunity to speak the truth, to learn and grow as people, and to make sure in the process, we are staying true to each other. Preparation, consistency, accountability, competitiveness, and being physically and mentally tough have been the standards of this program for so long and that has led the program to 11 Final Four appearances, 22 NCAA Tournaments, 12 Big Ten Championships, etc. By continuing to make those our focus in everything we do is how we will continue the tradition of excellence moving forward."
You were on staff for 14 years before last season. How different is the view from the head coach's seat?
"Not doing this with Tracey is certainly a difference. She was a terrific mentor and was great about sharing decision making, which has prepared me well. Now sitting in the head coach's chair I see what a gift that opportunity was and how difficult it is to do. I can be particular and in this role, it's so important to keep the entire program in my perspective and to make decisions and give direction in light of that comprehensive perspective."
What was the first thing you did when camp opened in Year 1, and what will be the first thing you do when camp opens in Year 2?
"In Year 1 when camp started I was only in the role for six days and it was a very emotional time, so frankly, it was a whirlwind and I had to scramble. I spent a lot of time helping the players cope with the loss and transition. In Year 2, we will be prepared and ready to hit the ground running with practices and will be implementing our tactical and technical strategies. As a young team the best thing we can do is get on the field and get a benchmark of where we are and the progress the team made over the summer. We also will spend time engaging the players, especially our incoming freshmen, in reconnecting to our core values and with what the coaches expect of them with respect to those."
This summer you have four players participating in the 2015 Young Women's National Championship, and another competing for Team Canada in the World League Semifinals in Valencia, Spain. How important is the offseason and international competition for their development?
"The experience that five of our returners will get this summer playing at such a high level is invaluable. It is impossible to simulate game play to this extent in your summer training so these student-athletes will have an opportunity to make huge strides in, not only their tactical and technical skills, but also their gamesmanship, decision-making, and overall confidence. Stephanie Norlander will have the opportunity to qualify for the 2016 Olympics in two major tournaments this summer, which is a rare opportunity for someone her age. We are very proud that they will be representing Iowa field hockey on the national and international stage."
What key message did you deliver to the team heading into the offseason?
"We need to control what we can control and that would be returning to campus in August being physically and mentally tough and having made strides in our fundamental skills. Preparation breeds confidence so the student-athletes' physical preparation must be at the highest level if we want to have a chance to achieve our goals. We play a fast game that is physically demanding, and we need all 19 athletes to be as prepared as possible on August 12 so we can hit the ground running."
What are your goals going into the season?
"To have a physically and mentally tough team that holds each other accountable, displays great leadership and lives the Iowa field hockey standards every day. If we can possess all of that the outcome goals will take care of themselves. Our outcome goals are never anything less then competing for a Big Ten Championship, earning a spot in the NCAA Tournament and then some."
What are your long-term goals for the program?
"To continue the tradition of excellence that has been a hallmark of this program for over 30 years — Final Fours, NCAA tournament appearances, Big Ten Championships, All-Americans, Academic All-Big Ten selections. We want to continue to develop the student-athletes as women of integrity who will have a meaningful contribution to the world after graduation."