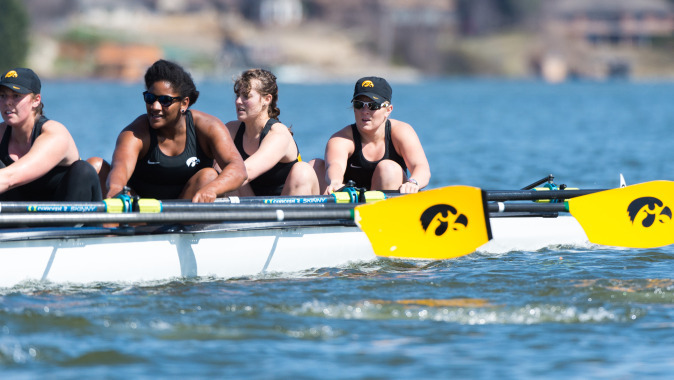 June 19, 2015
Read the May issue of Hawk Talk Monthly
Download your Iowa Hawkeye iPhone/ipad app!
="">Download your Iowa Hawkeye Android app!
="" class="pagelinks">Big Ten Network: Free Hawkeye Video
="" class="pagelinks">24 Hawkeyes to Watch
Download your Hawk Talk Monthly iOS app
Download your Hawk Talk Monthly android app
2014 FALL HIGHLIGHTS
Head of the Des Moines: Iowa swept the competition in the V8+ and V4+ events, placing crews in the top three spots.
Scrimmage vs. Indiana: On the first flight, the Hawkeyes finished first, second and fifth while the second flight finished first and third.
Jayhawk Jamboree: The V8+ crews collected first (13:18.34), second (13:19.04), and fifth (13:39.45) place finishes. In the women's V4+, Iowa collected first (14:43.20), third (14:48.48), fourth (14:49.93), and 10th (15:30.09) place finishes. The N8+ crews placed first (14:27.07) and third (14:51.04), while the N4+ crew took second (15:55.74) and fourth (16:42.43).
2015 SPRING HIGHLIGHTS
Central Florida, Old Dominion: Iowa swept Old Dominion and Central Florida in their scrimmages. Iowa took first in all four sessions for each of the 1V8+, 2V8+, 1V4+, and 2V4+ races against Old Dominion on the first day and first in all five of the sessions for each of the 1V8+, 2V8+, 1V4+, and 2V4+ crews against Old Dominion and Central Florida the second day of racing.
Nordic Nine (Cornell, Yale, Syracuse, and Boston University): Iowa placed second in every event (1N8+, 2V4+, 1V4+, 2V8+) behind No. 6-ranked Yale, but ahead of a storied program in Cornell on the first day of racing. The 1V8+ crew battled through inclement weather and debris on the 2,000-meter course to finish third overall with a time of 6:11.40, behind historically strong Ivy League crews.
B1G Double Dual: Iowa earned four victories against Michigan State, one win over No. 15 Indiana, and two over No. 7 Michigan. The 1V4+ (7.39.1), 2V8+ (6:44.8), 1V8+ (6:47.2), 1N8+ (6:56.9), and the 2V4+ (7:22.9) all placed first.
B1G/ Big 12 Challenge: Iowa competed in 12 races over two sessions, finishing first in five contests and runner-up in six additional sprints. Iowa took second place overall. The Hawkeyes earned 10 victories against Kansas and six wins over Oklahoma. The 1N8+, 2V4+, 1V4+, and 1V8+ crews finished first, while the 2N8+, 2V4+, 1V4+, 1V8+, 2V8+, crews finished second.
At Tennessee: Iowa finished first in the 2V8+ (6:41.1), 1V4+ (7:27.2), 2V4+ (7:38.2), and 1N8+ (7:00.3) races, while the 1V8+ (6:35.7) crew finished two-seconds behind Central Florida.
B1G CHAMPIONSHIP HIGHLIGHTS
The Hawkeyes tallied 79 points to finish sixth at the 2014 Big Ten Championship at Eagle Creek Park in Indianapolis, Indiana. Iowa's total marks the second highest scoring performance at the Big Ten Championships in program history, and the highest since 2003 when the Hawkeyes totaled 99 points to finish fourth.
The 1V8+ (7:15.131), 1N8+ (7:35.415), and 2N8+ (8:08.044) crews placed sixth in the championship regatta, while the 1V4+ (8:03.202) and 2V4+ (8:11.689) crews finished fourth. One of the highlights of the competition was Iowa's 3V4+ boat that came away with medals after crossing the finish line with a time of 8:36.356. After the competition, senior Beth Baustian earned first team All-Big Ten recognition, junior Cristy Hartman earned second team All-Big Ten honors, and junior Zoe Ribar was Iowa's Sportsmanship Award recipient.
GRASTORF SELECTED FOR US WOMEN'S U23 CAMP:
Sophomore Morgan Grastorf of the University of Iowa women's rowing team was accepted to the 2015 U.S. Women's Under 23 National Team Selection Camp in Princeton, New Jersey. Performances at the camp will determine selections for the women's eight, four and quadruple scull crews that will compete on July 22-26 at the World Rowing Under 23 Championships in Plovdiv, Bulgaria.
Twenty-five athletes were honored, and Grastorf is one of six Big Ten athletes to be selected. Selection camp invitations were based on performance on the 2014-15 National Team Ergometer Testing Protocol, coach recommendations, past racing performances, and competitive performance during training sessions and the athlete's ability to match the style and technique of the crew as determined by the designated coach.
Grastorf has competed in all four regattas for the Hawkeyes this season, appearing in the third seat of the 1V8+ boat. Grastorf has helped the 1V8+ crew finish first against Big Ten foe Michigan State at the Big Ten Double Dual, first over Kansas and defending Big 12 Champions Oklahoma at the B1G/Big 12 Challenge, and a close third behind the historically strong Ivy League crews of Yale and Cornell at the Nordic Nine.
In her inaugural season, the Naperville, Illinois, native earned 2014 Pocock All-America Second Teaforays CRCA first team All-Central Region honors. She was one of eight freshmen and one of 16 student-athletes invited to attend the 2014 USRowing Women's Pre-Elite Camp, which grooms up-and-coming rowers for the national teams.
CRCA AWARDS ROUNDUP
Eight members of the UI rowing program earned Collegiate Rowing Coaches Association (CRCA) recognition in 2015. Sophomore Morgan Grastorf earned her second consecutive first team All-Central Region recognition, while sophomores Victoria Bricker (Health & Human Physiology), Ellen Cranberg (English), juniors Madeline Anglin (Nursing), Katie Brown (Psychology), and seniors Destinee Gwee (Biochemistry), Gabrielle Watson (Speech and Hearing Science), and Hannah Hawks (Journalism & Mass Communication) were named CRCA Scholar Athletes. All-Region selections were evaluated on the strength of their team's regional finish, coach recommendations and 2,000-meter erg score. Scholar Athletes owned a 3.5 cumulative grade point average, raced in 75 percent or more of competitions and were in their second, third or fourth year of eligibility. Norton and Watson were also honored as Scholar Athletes a season ago.
WATSON NOMINATED FOR POSTGRADUATE AWARD
Hawkeye senior Gabrielle Watson was chosen as one of the University of Iowa's recipients of the annual Big Ten Conference Postgraduate Scholarship. Twenty-nine student-athletes from the 14 Big Ten institutions who plan to continue their education at a graduate degree program were awarded the scholarship, based on primarily academic achievements, and $15,000 will be awarded to each institution.
Watson is a four-year competitor with the University of Iowa rowing team. She has raced five times with the 1V8+ and 15 times with the 2V8+ crew in her four-year career with Hawkeyes. The Danville, Illinois, native has helped her crew collect 10 first place, eight second place, four third place, and two sixth place finishes at the Big Ten Championships. A two-time CRCA Scholar Athlete and Iowa's recipient of the Sportsmanship Award at the 2014 Big Ten Championships, Watson was an academic All-Big Ten honoree.
Student-athletes must have maintained at least a 3.2 grade-point-average, demonstrated leadership qualities, served as an excellent role model, and intended to continue their academic work beyond their baccalaureate degree at a graduate degree program.
CLASSROOM SUCCESS
Twenty rowing student-athletes were named Academic All-Big Ten for their dedication in the classroom following the 2015 season. Honorees had to have a 3.0 cumulative grade point average and be letterwinners in at least their second academic year at Iowa. Sophomores Victoria Bricker (Health & Human Physiology), Danielle Bender (Elementary Education), McKinzie Cowley (Human Physiology), Ellen Cranberg (English & Spanish), Kimberly Hayes (Human Physiology), and Sarah Powell (Mathematics & Spanish); juniors Claire Benschoter (Nursing), Madeline Anglin (Nursing), Katie Brown (Psychology), Nina Hendriks (Mathematics), Zoe Ribar (Human Physiology), Jessica Streur (English), and Lauren Subler (Human Physiology); and Iowa graduates Alyssa Armstrong (Sport & Recreation Management), Destinee Gwee (Biochemistry/Asian Languages & Literatures), Beth Baustian (Health & Human Physiology and Interdepartmental Studies), Brianna Achs (Journalism & Mass Communications), Hannah Hawks (Journalism & Mass Communications), Mackenzie Norton (International Studies & Economics), Gabrielle Watson (Speech & Hearing Science) were recognized.
AN ELITE INVITATION
Freshman Gemma Kerr — a member of the 2V8+ crew — was invited to attend the 2015 Junior Canadian National Team Selection Camp. Kerr will begin trials to earn a spot on the 2015 Junior Canadian National Team on June 8-11 in Welland, Ontario. The trials determine those athletes with appropriate speed to proceed with the next steps of selection to either the World Championships or CanAMex Regatta teams.
NATIONAL RECOGNITION
After the team's strong showings at Old Dominion and the Nordic Nine, the first two regattas of the spring, UI rowing began receiving votes in the Collegiate Rowing Coaches Association (CRCA)/USRowing Coaches Poll. The Hawkeyes continued to receive votes for the remainder of the 2015 season. Iowa also ended the season ranked fifth in Region Four of the NCAA Regional Rankings.
COMPETING AGAINST THE BEST
The Hawkeyes competed against numerous ranked opponents this season including 2014 NCAA Champion Ohio State, Cornell, Yale, Syracuse, and Boston University. Four Big Ten teams — Indiana, Michigan, Ohio State and Wisconsin — earned berths to the 2015 NCAA Division I Rowing Championship. Ohio State claimed its third-straight NCAA title, Michigan finished 10th, Indiana placed 11th and Wisconsin recorded a 13th place result in a field of 22 teams.
FOLLOW THE HAWKEYES:
A member of the Iowa rowing staff will offer interactive Twitter content live at every regatta this season via @iowarowing. This feature gives Hawkeye fans the opportunity to stay up to date on the latest news and scores during every regatta.
Web Address: hawkeyesports.com (check the schedule page for live stats and live streams)
Facebook: facebook.com/IowaWomensRowing
Twitter: twitter.com/iowarowing
Instagram: @Iowa_Rowing