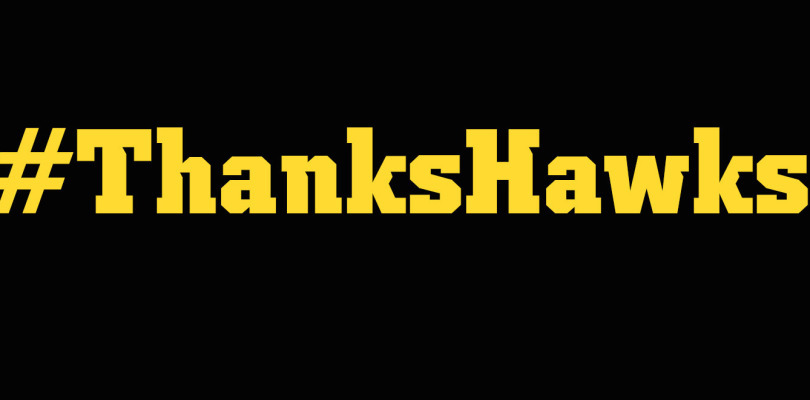 June 25, 2015
By PATRICK SOJKA
UI Foundation
IOWA CITY, Iowa — As we turn the page on the 2014-15 athletics year, and look forward to 2015-16, the I-Club wants to take this week to say thank-you to all who provide support to Our Hawkeyes.
"It is simple," said head wrestling coach Tom Brands. "As a student-athlete here at the University of Iowa, to compete and be on scholarship is an honor. Because of your support, we can get it done."
"What it comes down to is thank-you."
Our Hawkeyes thrive thanks to the passion and support of I-Club members and Hawkeye fans around the globe. Victories on the field and in the classroom are possible because of their support.
"To be a student-athlete at the University of Iowa, it takes a certain level of commitment, dedication, and passion," said head men's gymnastics coach J.D. Reive. "That passion is made possible by the generosity and contributions of the 18,000 I-Club members.
"Their contributions make our motto of win, graduate, and do it right possible by providing scholarships, world-class training facilities, and life-changing opportunities for our student-athletes at the University of Iowa."
This year, UI coaches and student-athletes added to our proud Hawkeye tradition, on the field, in the classroom, and in our community.
"We are very proud of the tradition we have around here," said head women's golf coach Megan Menzel. "To have that support from donors is awesome, and it feels great to get up and go to work every day."
"Throughout the recruiting process, the greatest selling point we have at the University of Iowa is the people that support our goals, missions, and achievements," said head cross country coach Layne Anderson. "We thank you again for that continued support, and we are excited for the success that awaits in 2015-16."
"In our sport of rowing, you can only get there with the team," said head rowing coach Andrew Carter. "We all have to be pulling in the same direction, and knowing that we have a huge family of supporters behind us is critical to our everyday success."
On behalf of our Hawkeye coaches, staff, and student-athletes, thank-you for your loyalty and generosity.
Please join @jointheiclub, Hawkeye coaches and student-athletes, and former Hawkeyes this week by using #ThanksHawks on social media to illustrate why you support Our Hawkeyes and why it is great to be a Hawkeye!