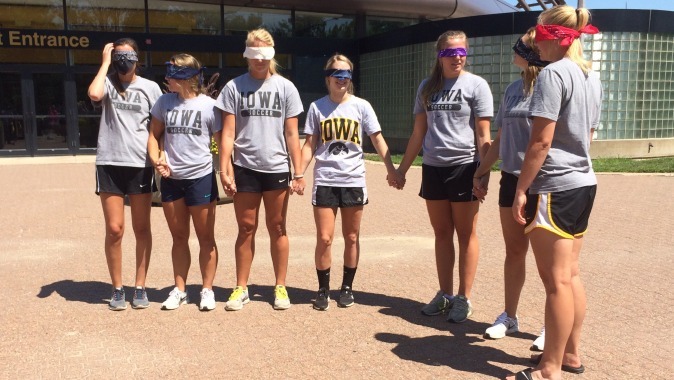 Aug. 5, 2015
Editor's Note: The following first appeared in the University of Iowa's Hawk Talk Daily, an e-newsletter that offers a daily look at the Iowa Hawkeyes, delivered free each morning to thousands of fans of the Hawkeyes worldwide. To receive daily news from the Iowa Hawkeyes, sign up HERE.
By JAMES ALLAN
hawkeyesports.com
IOWA CITY, Iowa — Before the 2015 University of Iowa soccer team began competition, the Hawkeyes spent time in a team retreat, focusing on leadership, trust, and communication.
The Hawkeyes spent Monday in Carver-Hawkeye Arena with Dr. Damon Arnold, an academic advisor at Grand Valley State, who developed a leadership program for Lakers athletics. UI head coach Dave DiIanni worked with Arnold at Grand Valley State.
"I knew the moment we graduated 10 seniors (last season) that we needed to spend time as a program and staff to better understand one another," said DiIanni. "Not only because of the youth in our program, but because of the different personalities that exist.
"I wanted us to have a better appreciation for each other and ourselves off the field as leaders."
The Hawkeyes started the retreat by taking the DiSC Personality Test to identify their leadership qualities. DiSC is a personal assessment tool used to improve work productivity, teamwork, and communication.
The student-athletes had discussions and performed activities after being split into one of four groups — dominant, independent, steady, and conscientious — based on the test results.
One of the trust and communication exercises involved five players guiding their 24 blind-folded teammates around trees, down hills, and over curbs… all without verbal communication.
"At one point in the exercise, one of our teammates yelled, `I don't trust you guys, I am not going to do this,'" said redshirt freshman Aubree Larson, one of the five guides. "It was eye-opening for how much we need to grow as a team before we can be successful."
"This exercise proved that communication is so important for such a large team and to show trust," said senior Brooke Backes.
With fall camp beginning Wednesday, Larson believes the Hawkeyes need to come together as a team to achieve the desired results.
"A lot of our players spent the spring and summer becoming the best players they could," explained Larson. "Now that we're hitting our fall season, we need to have our team goals in mind.
"(This retreat) showed us that it is not going to always be about the individuals, we all have to do what's best for our team. Everyone has to learn that it's not about themselves anymore; we have to sacrifice everything in order for our team to be successful."
DiIanni believes the retreat helped the team understand the importance of being a good leader and teammate.
"This process helped our student-athletes understand what a leader is, what leadership moments are, what a negative leader is, how to help handle crisis situations, and how to hold people accountable in the right ways," he said.
"In this program, we want to develop our student-athletes as soccer players and great students, but we also want to develop them as people and leaders. This has been a good step for us."
With 11 first-year players on the Iowa roster, Backes says the retreat accomplished its goal of helping the team come together sooner.
"This was vital for us," said Backes. "Allowing the 10 freshmen to get to know the upperclassmen better and learning each other's personalities and leadership styles helps everyone feel more comfortable. Everyone is better prepared to be a part of this team."