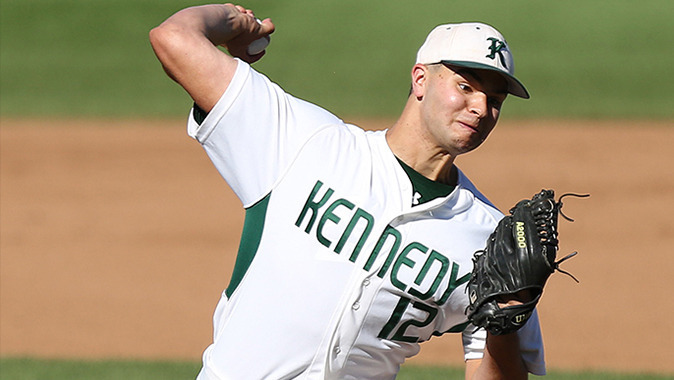 Aug. 14, 2015
IOWA CITY, Iowa — Cedar Rapids prep Sammy Lizarraga will join the University of Iowa baseball program for the 2016 season, UI head coach Rick Heller announced Friday.
Lizarraga, a 6-foot-6, 220-pound right-handed pitcher, was a two-time all-state Super Team, all-state, all-district, all-conference, and all-metro selection at Cedar Rapids Kennedy High School. Lizarraga was the 2015 U.S. Marine Corps Male Athlete of the Year, and as a junior was the 4A Pitcher of the Year. He also pitched in the Iowa All-Star Game and the Japan-Metro All-Star Classic as a senior.
"Sammy is a big, athletic pitcher whose fastball reached 94 this summer while helping lead Kennedy to the state semifinals," said Heller. "We love Sammy's competitiveness and his potential to be a leader in our program.
"From a baseball standpoint, we're excited about Sammy's upside and ability to come in and compete for quality innings immediately. We are excited Sammy has chosen to be a part of our program."
During his final prep season, Lizarraga went 8-0 with a 0.70 ERA, striking out 72 over 50 innings. He allowed just 28 hits, issued nine walks, and held hitters to a .159 average. In the state tournament, Lizarraga struck out 14 in a state tournament win over Davenport North.
As a junior, Lizarraga went 8-1 with a 1.45 ERA over 58 innings, allowing 40 hits, 12 earned runs, while striking out 53 to 14 walks. He finished his career with a 21-4 record, ranking him fourth all-time in school history in wins.
Lizarraga joins a recruiting class that is the top-rated class in the Big Ten and the No. 26-best class nationally by Perfect Game. The class consists of 11 freshmen, including six preps from the state of Iowa. Iowa has 16 newcomers joining the program this fall.