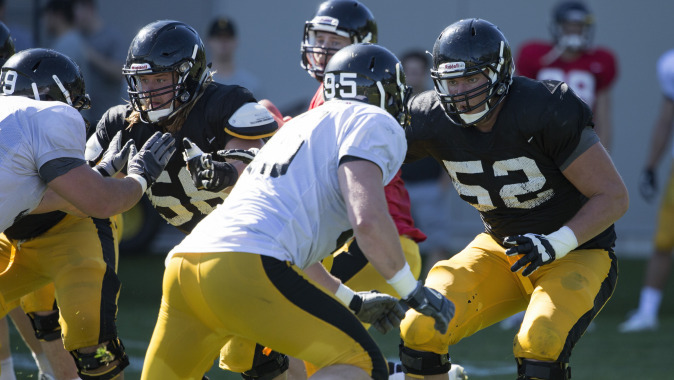 Aug. 15, 2015
Editor's Note: The following first appeared in the University of Iowa's Hawk Talk Daily, an e-newsletter that offers a daily look at the Iowa Hawkeyes, delivered free each morning to thousands of fans of the Hawkeyes worldwide. To receive daily news from the Iowa Hawkeyes, sign up HERE.
By BRIA DAVIS
hawkeyesports.com
IOWA CITY, Iowa — Sophomore Boone Myers is set to begin his third season with the University of Iowa football team after redshirting in 2013. Myers joined the team as a walk-on in 2013, but was rewarded with a scholarship prior to the 2014 season. The Webster City, Iowa, native saw his first career action at left tackle in last year's win over Northwestern.
Myers is one of two sophomores (Ike Boettger) who will see time at the tackle positions this season, after tackles Brandon Scherff and Andrew Donnal were drafted in the 2015 NFL Draft.
Hawkeyesports.com recently caught up with the environmental science major to get his outlook on the upcoming season.
What has been your biggest area of growth since joining the program as a walk-on?
"I would say football knowledge in general; knowing defenses, what I need to do and how to counter the defensive looks, and what they're going to do."
Knowing you're filling big shoes, does that intimidate or inspire you in terms of coming in after Brandon Scherff?
"It inspires me. It's a chip on my shoulder. I want to prove to everyone that there is not going to be a huge drop off."
Entering such an important role this early in your Iowa career, how does that affect your growth over the next two years?
"I'm going to go to practice every day with the mindset of being the best I can be. Wherever that leads me, hopefully it's somewhere good, you have to get chips on your shoulder and use it as motivation to improve."
Have the upperclassmen on the offensive line been doing a good job in terms of providing leadership and knowledge?
"Ever since arriving on campus the upperclassmen, especially the lineman, have helped out the younger guys and made sure we knew what we were doing and making sure we were paying attention."
What has it been like working with Brian Ferentz and getting a feel for your new responsibilities?
"It has been good. Not only is he a good coach, but he also knows how to communicate with younger players. Some coaches don't know how to do that, but he knows how to put things into perspective of how we need to look at it."
Who's the funniest person on the team?
"Eric Simmons. He's outgoing and nothing holds him back."
What has it been like transitioning into an offensive lineman?
"It wasn't too hard. I was a blocking tight end in high school so I love to block. Once I came here and started working out with coach Brian Ferentz and the other offensive lineman, I fit right in."
You played a couple different positions since high school, what was your favorite?
"Probably tackle. The interior is fun too, but I feel more comfortable at tackle."
Is there anything specific you took away from Scherff's style of play?
"Brandon was a very physical player — a powerhouse who dominated opponents — and I want to replicate that."
After playing in your first bowl game, how much does that motivate you coming into this season?
"It's a lot of motivation to improve and to get the whole team better. That bowl game left a sour taste in our mouths, so we definitely want to work hard and turn things around."
Myers and the Hawkeyes host "Kids Day" today at Kinnick Stadium. Beginning at 9 a.m. (CT), fans are invited to visit the Kids Zone at the Krause Family Plaza for inflatable games, face painting, temporary tattoos, and prizes.
Gates to Kinnick Stadium open at 11 a.m., with team members signing autographs along the front of the west and south stands at approximately 11:30 a.m., followed by the team's practice at noon.